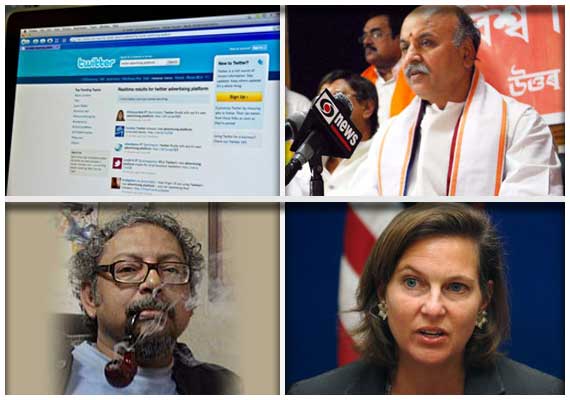 New Delhi, Aug 24: The government has issued a series of directions leading to levels of Internet censorship that have so far not been seen in India.
In its attempt to curb hate comments in the light of Assam violence and the exodus of Northeast people, the department of telecom has instructed Internet service providers to block around 300 web pages, including blogposts, news articles of mainstream media outlets, YouTube videos, Facebook pages and Twitter accounts.  
The four directives did not cite any sections of the IT Act or any other law that was being applied.
The Twitter accounts of two Delhi-based journalists, Shiv Aroor of the Headlines Today television channel and Kanchan Gupta, formerly of The Pioneer, have been blocked.
Many of these handles and websites were still accessible across Internet connections with the exception of Airtel, which appears to have scrupulously followed the government's instructions.
In all, 20 Twitter accounts have been blocked and hundreds of web pages featuring user-generated content on websites such as Facebook and YouTube barred.
Twitter accounts of Vishwa Hindu Parishad leader Pravin Togadia, and websites such as Sangh-Parivar.org, Haindavakeralam. com and Hindujagruti-.com have been banned.  
This move has sparked allegations  that the government was muzzling political opposition in the garb of censoring hate speech.  
Kanchan Gupta, one of the journalists blocked, earlier worked as an OSD to former prime minister Atal Bihari Vajpayee during the NDA regime.
The directive also appears to have led to ban on a wide range of online content, including a Wikipedia post on the Danish cartoon controversy and several news reports on the violence in Assam and Burma by the mainstream media, including TimesofIndia.com, Firstpost.com, Telegraph.uk and Aljazeera. com.  
Some of the URLs on the list appear to be those generated by searchers for terms like "Assam violence" and "Burma riots" on Facebook and Twitter, but Internet experts say this would not succeed in blocking the searches.  
The Chinese government is known to routinely block Internet content based on key terms, such as "Tiananmen 1989".
In Washington, the United States on Thursday advised India to ensure Internet freedom while seeking to preserve national security, as the Indian government asked social networking websites to check pages carrying inflammatory messages.  
"As the Indian government seeks to preserve security, we are urging them also to take into account the importance of freedom of expression in the online world," State Department spokesperson, Victoria Nuland, told reporters at her daily news conference.
Nuland was responding to questions on news reports that the Indian Government was asking Twitter to block some accounts that have been allegedly responsible for spreading rumours or false information that fanned unrest in the country following riots in Assam.
"Our understanding is that the Indian government is working with a number of our companies—Google, Facebook and now Twitter. We stand ready to be helpful if we can, as we always do with our companies, in those conversations," she said.
Nuland said these companies are talking to the Indian government about application of Indian law within the context of Internet freedom.
"The general principle of respect for freedom of expression, respect for the unique characteristics of the online environment, needs to be respected, even as they work through whether there are things these companies can do to help calm the environment," she said.
Fundamentally, freedom of expression on the Internet has been a keystone issue for US Secretary of State Hillary Clinton.
The is the first known instance of the Indian government making such an attempt, reports Times of India .  
An IT law specialist said the move was manifestly illegal.  
"It's completely illegal under the Indian IT Act. It's a gross abuse of power by the government. It's like banning cars because of drunken driving by a few individuals," said Vivek Sood, senior advocate in the Supreme Court and author of Cyber Law Simplified.