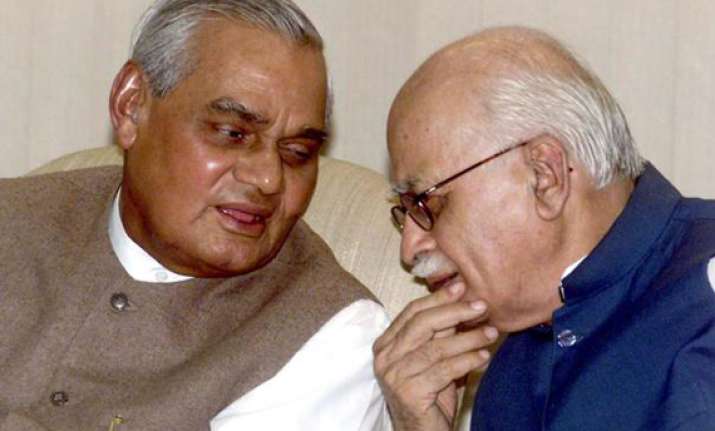 Bhopal, Oct 16: Veteran BJP leader L K Advani said here today that he was sorely missing support of the former Prime Minister Atal Bihari Vajpayee in the ongoing yatra.

Addressing a public meeting at the Dusshera Maidan, the veteran BJP leader said, "I received support and guidance from Vajpayee during my earlier five yatras. But I am missing it this time. I embarked on this journey only after seeking blessings from him. But there is no doubt that in this yatra, I am missing Vajpayee very much,".

Advani said that since the 2009 Lok Sabha elections he had been stressing on the need to bring back black money stashed away in foreign banks by rich Indians.

As regards the quantum of funds stashed away, he said that though it was not officially revealed, an agency called Global Integrity has estimated it to be nearly Rs 2.5 lakh crore and that figure was also authenticated by the Swiss Bank Association.

Advani said that there are many countries including the US, Germany, France and Russia whose residents have deposited money in tax havens like Switzerland, but Indians have stashed away maximum amount of money.

Referring to the cash-for-vote scam, he said that although his party's three members played the role of a whistle-blower in the matter, they were put in Tihar Jail which has pained him a lot.

This is also one of the reasons behind the yatra as those who had given the money were roaming scot free, Advani said.

The veteran BJP leader also sought to know from the Centre that after Switzerland enacted Restitution of Illicit Assets Act, what steps the government has taken to identify the persons who had stashed away black money in foreign banks.

"I demand that the government bring out a White Paper on the issue in the Winter Session of Parliament," he said.

Earlier, addressing the meeting, Leader of Opposition in the Lok Sabha Sushma Swaraj said that even in these days of television watching, a yatra served a great purpose.

She said that people may not watch television but when a yatra passes through their area they come out to have a glimpse of the leader and even listen to his message.
Madhya Pradesh Chief Minister Shivraj Singh Chouhan and the State BJP President, Prabhat Jha also expressed their views on the occasion.

Advani later flew in a helicopter to Chhindwara from where the yatra would proceed to Nagpur.