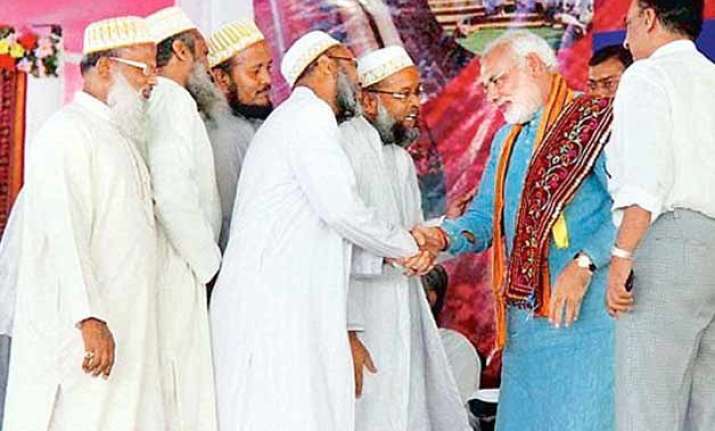 Lucknow: Prime Minister Narendra Modi will soon meet senior members of All India Muslim Personal Law Board (AIMPLB) to develop a sense of trust among the Muslims. The meeting can take place at the end of the month before or after the AIMPLB convention in Jaipur scheduled between March 20 and 22.
 According to a report published in Mail Today, Maulana Azad National Urdu University vice-chancellor Zafar Sareshwala, who is considered very close to Modi, is the one who proposed the meeting. He conveyed the idea during his February 19 meeting with Nadwatul Uloom chief Rabey Hasani Nadwi who is also the AIMPLB president. A senior AIMPLB member said that Nadwi has agreed in principle to this meeting.
AIMPLB is the highest panel of the Muslims which usually does not get involved in politics but holds a large effect on the community and its voting pattern.
Nadwatul Uloom principal S.R. Azmi said Modi is a positive leader who wants to take every community along the path of development but the comments of several right-wing Hindu leaders make it difficult for the unity of Hindus and the Muslims.
Zafaryab Jilani, additional advocate general of Uttar Pradesh and a senior AIMPLB member said that the Centre is not much keen to take a step towards us in genuine sense and that was visible by the budget as there is nothing for the community in the Union Budget. He added that the divide between the two communities was a result of the fanaticism of the saffron groups.
Uttar Pradesh BJP spokesperson Vijay Bahadur Pathak said the lack of communication is causing a lot of problems and that is why Modi wants to clarify the stand of the government to whosoever is suspicious of his government.