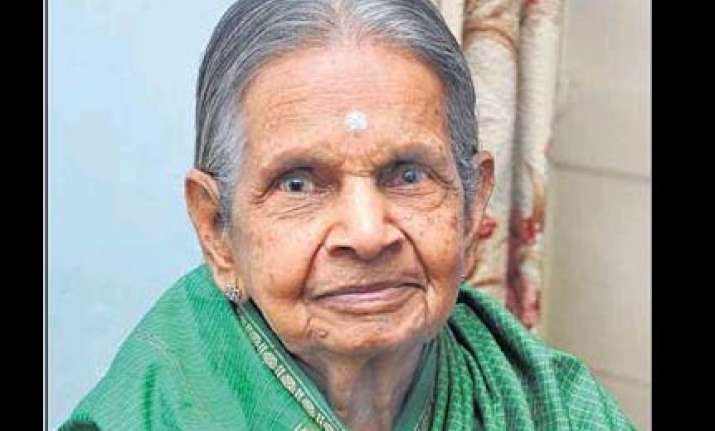 The Mid Day newspaper on Thursday published the story of a 92-year-old woman  Narsamma from Hanumant Nagar, Bangalore, who claims that she had last taken water at the age of 14.
Narasamma told Mid Day, "I haven't had water since childhood. Even today, I don't feel the need for it, and my body has always responded well. I only have coffee twice a day.
"Maybe, it's unbelievable for a lot of people, but this is how I have been living. Until now, only my family members have known about it. I never talked about it because then doctors and researchers will start investigating me, and I will be an object of scrutiny for everyone, which I don't want."
It was not always like this.  
In 1932, when Narasamma was 14, she developed a peculiar problem. Her throat would go dry, and she would feel thirstier than ever. In order to combat that, she started to have large quantities of water, sometimes up to 10 litres. This continued for two months.
But then, she developed a new ailment. The excessive water bloated her body, resulting in swelling of limbs.  
At one point, Narasamma had no control over her limbs. Her condition became worse, and her parents took her to Ayurvedic doctors.
At first, the doctors said that she will not live long, but after her parents appealed, they agreed to try harder. They suggested a 48-day steam therapy. They would put medical herbs in boiling water, and ask her to sit in front of it.  
Gradually, the accumulated water got out in the form of sweat, and she became better. But after the same ailment struck again, ,  she vowed never to have water again.  
Since the last 78 years, she has never met doctors. In case she falls sick, she relies on Ayurvedic medicines. The reason not to take allopathic medicines, she says, is that they require more water. In the summers, she wears wet clothes to beat the heat, and maintain the water level in her body.
When asked how she remains active, Narasamma said that she eats dry fruits, and nuts throughout the day. For food, she prefers to have rice meals, which she cooks for herself. She gets up at 7 am everyday, washes her clothes, and prays for five hours a day. She also fasts for at least 10 days a month.
This is not all. In 2000, she went on a 36-day tour to North India and South India, but didn't have any food " she sipped only three cups of coffee throughout the tour.
Now, she wants to fly Singapore, where her grandson lives.
Aruna A, her youngest grand daughter, a TCS employee said, "I have never seen her drinking water. She never asks for it too. She doesn't even sip juice and buttermilk but she is still very strong and healthy."
Dr Kirankumar B, general practitioner said, "It is impossible. Every cell needs sufficient water, otherwise the cells won't survive; but in exceptional cases, cells will get water from other options. This is a challenge to the science; we have to examine the person."
In May, it was reported that Pralhad Jani, a yogi, has not had food or water for 70 years. He is now 82-years-old and quite healthy.  
Although the claim for not eating or drinking for 70 years was unsubstantiated, he was kept in a hospital to study how he could do that.
He stayed in the hospital for eight days without touching water or food, and was in great health.