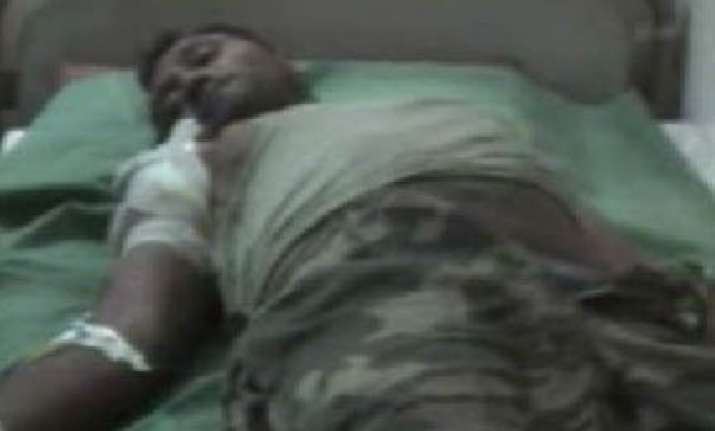 In the worst Maoist attack, at least 76 CRPF and district force personnel were on Tuesday killed when a large group of Naxals ambushed them in the thick Mukrana forests of Chhattisgarh's Dantewada district.  The dead included 76 CRPF men including a deputy and an assistant commandant, and a head constable of the district police force.

76 bodies of the personnel, who were part of a 80-member CRPF and a district police team, have been recovered from the site of the attack suspected to have been carried out by about 1000 Naxals, police spokesman and Inspector General R K Vij said. 


Eight of the injured CRPF men have been evacuated for treatment from the forest area, he said.

"The CRPF men were in the forests for operational duty when the Naxals attacked. It is very tragic and sad," CRPF Director General Vikram Srivastava told PTI. 


Expressing shock over the brutal attack, Home Minister P Chidambaram said something must have gone "drastically wrong."

"The casualty is very high and I am deeply shocked at the loss of lives....This shows the savage nature of CPI (Maoist) and the brutality and the savagery they are capable of," he said.

CRPF Special Director General Vijay Raman, who is also the Commander of the Anti-Naxal Task Force, is on way to the forest area. Additional reinforcement have already been sent and search operations are on in the area.

Official sources said the attack took place when the CRPF unit belonging to the 68 Battalion entered the forest for an operation between six and seven am and were ambushed by the Maoists.

Helicopters have been pressed into service to evacuate the injured and bring back the bodies, Chhattisgarh Director General of Police Viswa Ranjan said.

The attack comes two days after Maoists triggered a landmine blast in Orissa's Koraput district, killing 11 security personnel of the elite anti-Naxal Special Operations Group.

On February 15, 24 personnel of Eastern Frontier Rifles were killed in a Maoist attack on their camp in West Bengal's West Midnapore district.  The CRPF party was taken aback by the sudden attack by the Maoists, who surfaced on a hillock firing indiscriminately and setting off Improvised Explosive Devices (IED).

Dantewada Superintendent of Police Amresh Mishra told PTI that the Naxals blew up a vehicle carrying the CRPF personnel.

The incident took place near Chintalnar-Tarmetla village in the district. The CRPF team had been camping in interiors of Tarmetla jungles for the last three days as part of a combing operation, Mishra said.
Prime Minister Manmohan Singh on Tuesday  expressed "shock and grief" over the death of 73 paramilitary personnel in a Naxal attack in Chhattisgarh's Dantewada district.
The Prime Minister has expressed shock and grief over the loss of lives in a Naxal attack in Dantewada, a PMO spokesman said. 
Singh spoke to Home Minister P Chidambaram and is understood to have sought details about the incident.
Following is the chronology of major recent Naxal attacks in the country.
July 16, 2008: 21 policemen killed when a police van was blown up in a landmine blast in Malkangiri district of Orissa.
June 29: Maoists attack a boat on Balimela reservoir in Orissa carrying four anti-Naxalite police officials and 60 Greyhound commandos, killing 38 troops.
Oct 8, 2009: 17 policemen killed when Maoists ambushed them at Laheri police station in Gadchiroli district of Maharashtra.
Sep 30: Naxalites set ablaze Gram Panchayat offices at Korchi and Belgaon in Gadchiroli district of Maharashtra.
Sep 26: Naxals kill BJP MP from Balaghat Baliram Kashyap's sons at Pairaguda village in Jagdalpur (Chhattisgarh).
Sep 4: Naxals kill four villagers in a forest in Aaded village in Chhattisgarh's Bijapur district.
 Jul 31: A special police officer and another person killed by Naxals in Bijapur district.
July 27: Six persons killed when Naxals trigger a landmine blast at Dantewada district in Chhattisgarh.
July 23: A 40-year-old tribal killed by Naxalites at Ettapalli taluka in Gadchiroli district.
July 18: Naxalites kill a villager in Bastar and in a separate incident torch a vehicle engaged in road construction work in Bijapur district of Chhattisgarh.
June 23: A group of motorcycle-borne armed Naxal rebels open fire on Lakhisarai district court premises in Bihar and free four of their comrades including the self-style Zonal Commander of Ranchi.
June 16: Maoists kill 11 police officers in a landmine attack followed by armed assault. In a separate attack, four policemen were killed and two others seriously injured when Maoists ambush them at Beherakhand in Palamau district.
June 13: Naxals launch two landmine and bomb attacks in a small town close to Bokaro, killing 10 policemen and injuring several others.
June 10: Nine policemen, including CRPF troops and officers, ambushed by Maoists during a routine patrol in Saranda jungles in Jharkhand.
May 22: Maoists kill 16 policemen in the jungles of Gadchiroli district in Maharashtra.
April 22: Maoists hijack a train with at least 300 people on board in Jharkhand and force it to Latehar district before fleeing.
April 13: 10 paramilitary troops killed in eastern Orissa when Maoists attack a bauxite mine in Koraput district.
Feb 15, 2010: 24 personnel of the Eastern Frontier Rifles (EFR) killed as Maoists attack their camp in Silda in West Midnapore district of West Bengal.
April 4, 2010: Maoists triggered a landmine blast killing 11 security personnel of the elite anti-naxal force Special Operations Group (SOG) in Koraput district of Orissa. PTI