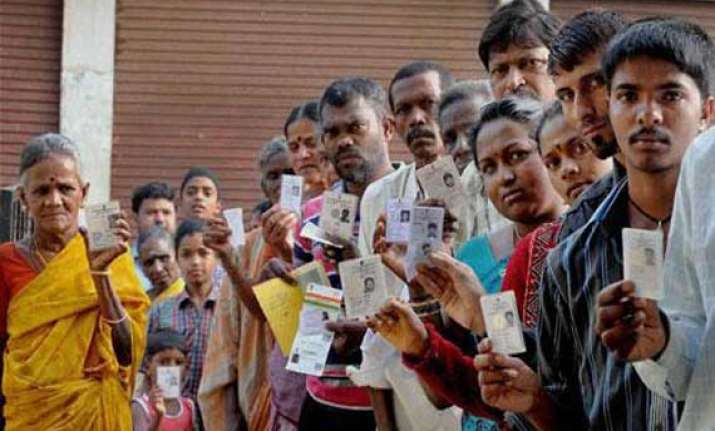 Kolkata/Guwahati/Patna/Ranchi:  A voter turnout of as high as 69.61 per cent to a low of 47 per cent was witnessed till 3:00 pm in the sixth phase of the Lok Sabha elections today for 23 seats in eastern India.  West Bengal, where the second phase of the elections are being held, registered 69.61 per cent, Jharkhand in the third and last phase witnessed 55.93 per cent, Assam also in the third and last phase recorded 53 per cent and Bihar 47 per cent in the third phase.
Altogether 332 candidates are contesting the 23 seats in the four states.
A policeman was killed while another was injured when a mob tried to capture a poll booth in Kokrajhar parliamentary seat in Assam, leading BSF personnel to open fire.  In West Bengal, the Election Commission removed three presiding officers under Sagardighi Assembly segment of Jangipur parliamentary constituency for allowing TMC candidate Sk Nurul Islam and his followers to influence voters and allowing them inside the polling premises flouting section 144 CrPC.
In Jharkhand, a minor clash in Dhanbad between supporters of Congress and Marxist Coordination Committee left four Congressmen injured.
EVMs malfunctions were reported from the four states and were replaced.
Prominent among 108 candidates in Bihar were BJP's Shahnawaz Hussain, the party's lone Muslim face in the outgoing Lok Sabha (Bhagalpur), NCP General Secretary Tariq Anwar (Katihar) and former union minister and RJD leader Mohd Taslimuddin.
Polling was being held in Supual, Araria, Kisanganj, Katihar, Purnia, Banka and Bhagalpur in the state.