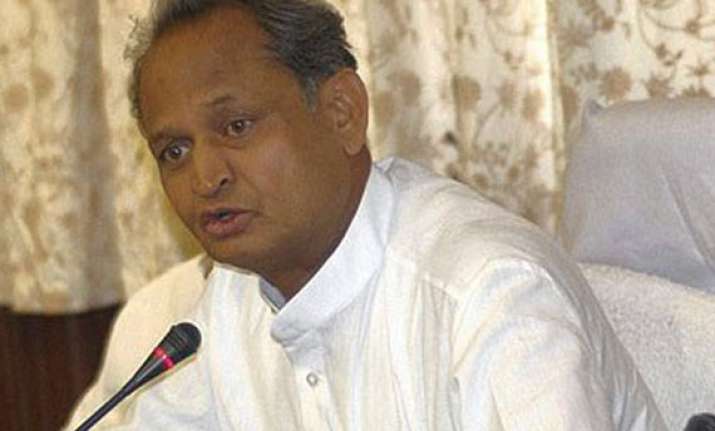 Jaipur, Nov 16: Seven Rajasthan ministers were sworn-in today as Chief Minister Ashok Gehlot after dropping five ministers reshuffled his council of ministers to give a new look to his government battling allegations of sleaze and corruption.

All 27 ministers - 16 of cabinet rank and 11 junior ministers - had given their resignation letters to the Chief Minister yesterday. Regrouping his team, gehlot showed the door to six ministers, picked five new ones, promoted one to cabinet rank and reinducted another.

While Manju Meghawal, Naseem Akhtar, Vinod Chaudhary, Virendra Beniwal and Dayaram Parmar are the new faces, Amin Khan has been reinducted and Ashok Bharwa elevated from MoS to cabinet rank.

Beinwal and Parmar have been made Ministers of State with independent charge. Khan, who had caused considerable embarassment by saying that President Pratibha Patil got the top post due to her proximity with Sonia Gandhi, has also been made MoS (Independent charge).

Governor Shivraj Patil administered them oath of office at the swear-in ceremony in Raj Bhawan here. 

Those who have been dropped are Bhanwarlal Meghawal (education), Bharosilal Jatav (motor garage),Pramod Jain Bhaya (PWD) and Golma Devi who had resigned earlier. 

Ram Lal Jat, who had resigned as Minister of State for Forest and Environment following allegation of being involved with a woman, also finds no place in the new team. 

Gehlot had sent the resignation letters of these five to the Governor for acceptance.

The Chief Minister insisted that the rejig exercise has nothing to do with Gopalgarh violence or the missing nurse case.

Gehlot said that the reshuffle was due in the state so it was done. He also indicated for another reshuffle in future before the next assembly elections.

"Reshuffling should take place from time to time in parliamentary democracy. It was due in Rajasthan so it was done. Second reshuffle will also be done before next assembly elections," Gehlot told reporters after swear-in ceremony at Raj Bhawan here.

The Chief Minister, who has come under fire with scandals allegedly involving his ministers frequently coming up, was asked by the Congress central leadership to present a clean and new look ministry.

Topping the list of scandals that has undermined the credibility of his government is the disappearance of Bhanwari Devi, an auxillary nurse in September. 

Mahipal Maderna was sacked as minister after a CD allegedly filmed with Bhanwari Devi surfaced. She went missing from her home near Jodhpur.

The Opposition has made it clear that a shake-up was not enough and demanded that Gehlot should quit. "The government should go," Leader of Opposition Vasundhara Raje said.

Gehlot also faced flak  for the Gopalgarh police firing incident in September in which 10 Meo Muslims were killed after clashes with the rival Gujjar community over a disputed piece of land.