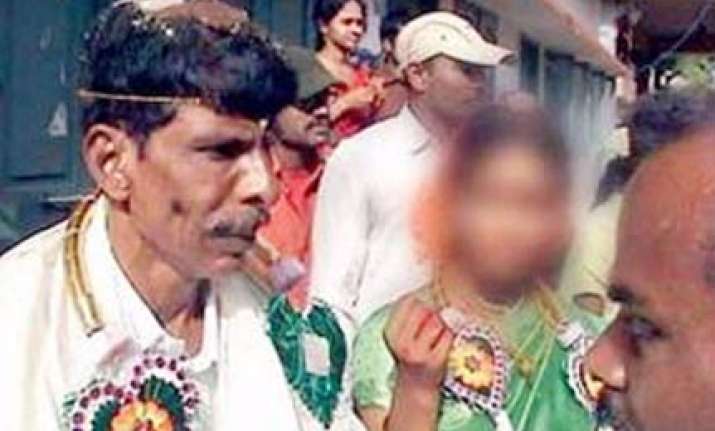 A 57-year-old employee of Andhra Pradesh State Road Corporation married a 14-year old girl  at a temple in East Godavari district on Thursday but later ran away when police came to look for the couple. He was later nabbed, reports Mumbai Mirror.  
Surprisingly, priests at the Satyanarayana Swamy Temple in Ayapuram  registered the marriage in their records, with the bride's age showing at 14 years.  
The wedding ceremony was attended by both families and relatives. The groom has a daughter and a son – both are married and have children.
Both the bridegroom and his minor bride belong to Vemulavada village of Kovvuru block in West Godavari district.
A local women rights group alerted the police, who immediately swung into action. But by the time they could barge into the wedding party, the ageing groom had already escaped with his minor bride.
Shocking still, the girl's parents asked the police to keep their noses out of their personal matter. However, the police nabbed the groom later.
The impoverished parents said that marrying their minor daughter to the retiring government employee was a great opportunity, which they did not want to miss.
Those in favour of the groom said, "Now that he is retiring, he needs a companion. He did not force anybody to marry him. It was a mutual decision."
The Child Marriage Restraint Act 2005 states that all those who perform or encourage wedding of a girl below 18 years or a boy below 21 years of age directly or indirectly –  including parents, those who attend the wedding, purohits (priests) – are responsible for the crime.