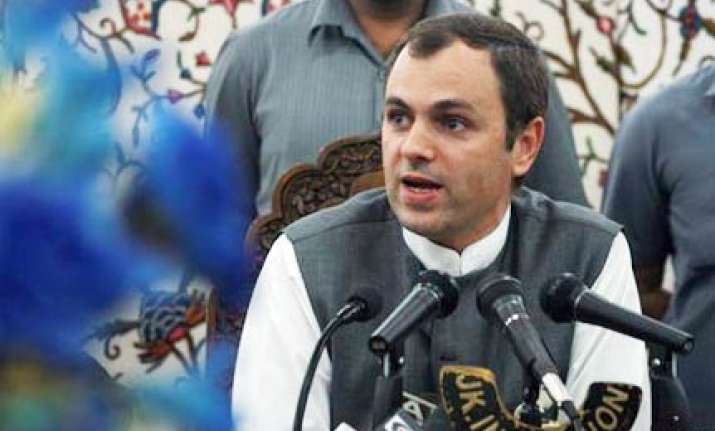 Srinagar: In an Indpendence Day-eve bonanza, Jammu and Kashmir Chief Minister Omar Abdullah on Saturday  announced his government will recruit 50,000 youths in the next few months and pitched for restoration of autonomy to the state to bridge the "trust deficit" between the people and the Centre.  
The Chief Minister said people in Jammu and Kashmir have cynicism about the promises made by the Centre in the past and there is a need for the central government to initiate action to remove all doubts from the minds of the people and bridge the gap that has emerged over the last six decades. "I think by restoring the autonomy, this trust deficit will be removed. I request the government of India to take urgent measures in this regard," he said.  
In his address to the people on the eve of the Independence Day, Omar said no economic or employment packages can heal the wounds but economic development is also an essential component of the well-being of the state and its people and so it cannot be ignored.  
"While the Prime Minister (Manmohan Singh) has constituted C Rangarajan committee to address the unemployment problem in Jammu and Kashmir, on the occasion of the holy days of Ramadan, I announce that the state government will engage 50,000 youth in the government within the next few months to improve the public delivery system in public services," he said.  
Omar said that right from the day he took over as Chief Minister of Jammu and Kashmir, he has focused on enhancing the employability and expanding the orbit of employment for the youth of the state.  
He said that during the last 18 months, his government, besides focusing on drinking water, power, road, health and education as the five most important sectors of economic welfare, has laid emphasis on providing solution to the unemployment problem.  
Omar welcomed the Prime Minister's announcement in the all-party conference regarding the restoration of autonomy to Jammu and Kashmir and said this would help remove the trust deficit that has crept in due to its erosion. He also welcomed the central government's recognition of the fact that accession of Jammu and Kashmir to India had taken place under unique circumstances.  
"This is a historic opportunity for us and we must take advantage of it," he said and appealed to separatist leaders to join the talks and play their role in solving the Kashmir issue. On Armed Forces Special Power Act, Omar said he was the first Chief Minister to raise the issue in the state assembly and repeatedly advocated its amendment.  
"I have stressed on its amendment time and again and I am happy that the Union Government has recognised the necessity of revisiting AFSPA. While we have also to work towards this direction, I appeal to the central government to take concrete steps for revoking this Act," he said. PTI