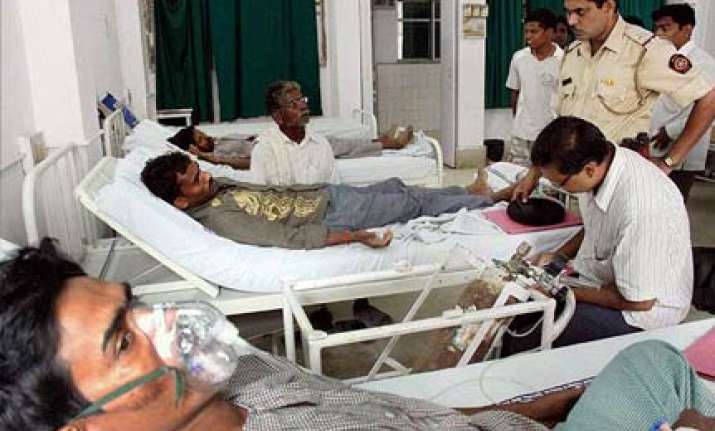 Mumbai, Nov 23: Over 40 people, including children, were today hospitalised with breathing problems after inhaling poisonous ammonia gas which leaked from a tank in a cold storage room of a company in neighbouring Navi Mumbai, police said.
The leakage was plugged this afternoon and the situation is now under control, they said, adding an FIR was registered against the management of Naik Oceanic Exports Pvt Ltd under IPC sections 284 (negligent conduct with respect to poisonous substance) and 287 (negligent conduct with respect to machinery).
Following the leakage that caused breathing problems to the people, an angry mob from Dongricha Pada village pelted stones at the security cabin of the plant and damaged four vehicles of the company, D K Ghule, senior inspector at Taloja police station told PTI.
"At the moment, 39 are undergoing treatment in various hospitals. More than 40 victims, including children, were taken to various hospitals but some have been discharged after the first aid," Ghule said.
According to police, at around 8.30 am, they received a complaint that the workers and people in the village adjacent to the factory, had suffered breathing problems due ammonia gas leakage from the company, owned by Rafiq Naik, in MIDC area.
Immediately, fire brigade and chemical analyst experts were notified, who in turn, rushed to the spot and managed to plug the leakage near the valve of the tank.
"Four of the victims are now in the ICU of MGM hospital. Their condition is said to be out of danger. Some children were also admitted in the hospitals for breathing problems," Ghule said.
The entire factory and the nearby premises have been evacuated, police said.
"Due to load shedding in this industrial region on Tuesday, usually many factories remain closed. This company was also not open today but there were some workers inside," Ghule said. PTI