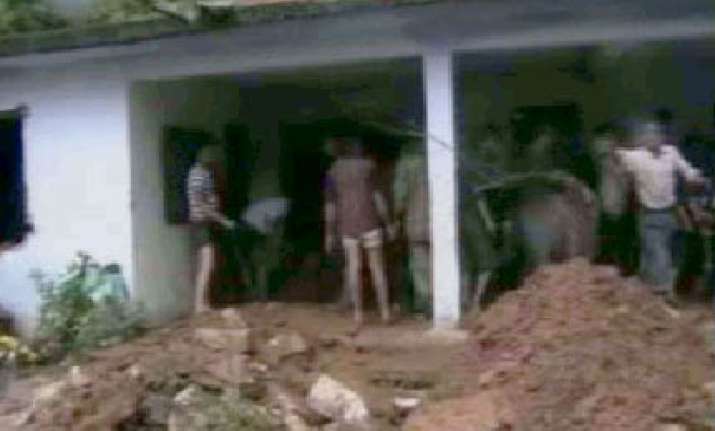 Dehradun: At least 18 children were killed while six others were pulled out alive from the debris after the roof of a primary school collapsed in a hilly area on Wednesday following heavy rains in Uttarakhand's Bageshwar district.
Around 18 children are feared trapped below the rubble and efforts were on to rescue them, Anup Nautiyal, CEO of Emergency Response Service said tonight.
The children were in the age group of six to 10 years, he said, adding the rescued children who were injured were safe and were being treated  by doctors.
Uttarakhand Chief Minister Ramesh Pokhariyal Nishank said the search and rescue teams have recovered the bodies of 18 children from the debris of the collapsed building in Kapkot area, about 450 km from here.
The roof of the Saraswati Shishu Mandir at Sumgad village collapsed this morning when the children were studying, burying them under the debris, he said.
Six other children were also rescued safely with minor injuries from the debris, he added.
Nautiyal said according to reports around 50 children were inside the classes when the tragedy occured. Fortunately, several children were in the open compound area, he added.
The Chief Minister also announced ex-gratia of Rs 50,000 each to the families, which have lost their children.
 Despite bad weather, the rescue and search operation is going on in the affected area, said official sources.
Bageshwar District Magistrate D S Garbiyal said the tragedy occurred due to heavy landslides triggered by torrential rains at the hill where the school is situated.
Rescue teams from the district headquarters had a tough time reaching the spot after the bridge linking the  area with Kapkot also collapsed due to heavy rains last night, Bageshwar District Development Officer S K Singh said.
However, locals sprang into action immediately after the incident and safely brought six children out of the rubble, he said.
 Uttarakhand Governor Margaret Alva expressed grief over the death of children in the tragedy at Kapkot area of Bageshwar district.
 In her message, Alva has also prayed to God to give strength to the family members of the children to bear the loss, a Raj Bhavan release said.
 Nautiyal said that rescue operations are continuing despite bad weather and poor connectivity in the area.
 "We have already deployed few ambulances on the spot and relief work continues as we speak now..," he said. PTI