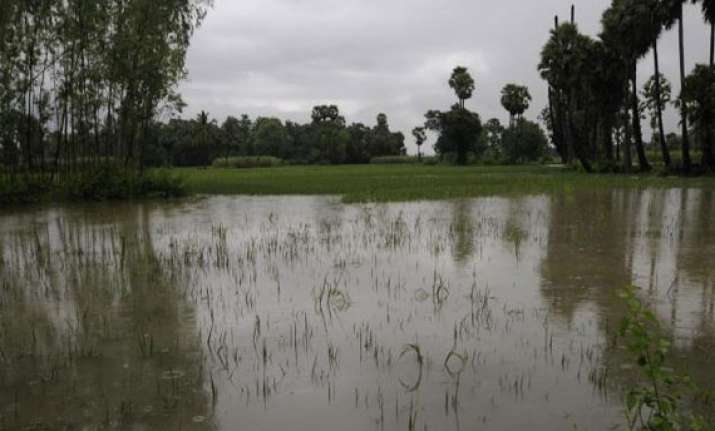 Hyderabad, Nov 4:  Torrential rains continued to batter coastal Andhra Pradesh Sunday, claiming 17 lives, inundating hundreds of villages, paralysing road and rail traffic, and damaging crops.
The rains triggered by northeast monsoon and Cyclone Nilam, which crossed the coast near Chennai Wednesday, have so far killed 17 people, said T. Radha, commissioner, disaster management.
Incessant rains in eight districts of Andhea Pradesh have damaged 480 houses completely and 766 houses partially. Standing crops in over 250,000 hectares were also damaged.
In East Godavari district, one of the worst-hit by flash floods, about 30,000 people were shifted to relief camps opened by the state authorities.
Many villages in the district were marooned due to overflowing rivulets, tanks, streams and reservoirs. As many as 72 tanks were breached in the coastal district, inundating dozens of villages, which were without electricity.
Hundreds of passengers were stranded at railway stations as trains movement was thrown out of gear between Vijayawada and Visakhapatnam—the two major rail transit hubs in coastal Andhra Pradesh.
The railways have either cancelled or diverted trains due to flooding of tracks in East Godavari, West Godavari and Visakhapatnam districts, officials said.
Trains from Visakhapatnam to Hyderabad, Chennai, Bangalore and other cities in south India were also hit.
Vehicular traffic was also severely affected in the region with many stretches and national highways coming under water.
Hundreds of vehicles were stranded on the highway at Rajanagarm, Annavaram and Tuni in East and West Godavari districts.
Water entered into houses in several colonies of Rajahmundry, a historic town in East Godavari.
Teams of National Disaster Response Force (NDRF) shifted 3,000 people from flooded areas of Eluru town in West Godavari. The rescue workers were arranging large number of sandbags to prevent flooding.
In the coastal city of Visakhapatnam, normal life came to a halt due to incessant rains for the fourth day.
Main roads in the city have turned into pools. Officials from Greater Visakhapatnam Municipal Corporation, revenue and police departments were busy in rescue and relief operations.
People in the area described it as the worst disaster in two decades.
Chief Minister N. Kiran Kumar Reddy, who was in New Delhi, talked to top officials by phone and reviewed the situation, and directed them to take all necessary measures to help people in the affected areas.
Governor E.S.L. Narasimhan said the government would stand by farmers in this hour of distress.
"The government will provide all possible help to farmers and other affected people," he told reporters.
With Met Office forecasting more rains, officials have been asked to take precautionary measures and evacuate people from low-lying areas.