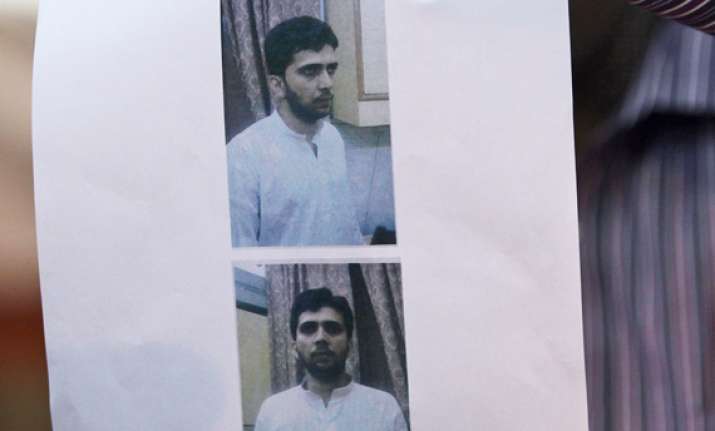 New Delhi, Jan 24: The family of Naqi Ahmed, arrested by the Maharashtra ATS as the man behind 13/7 Mumbai blasts, today said it would ask for the testimony of Delhi Police Special cell officials whom the 22-year-old was helping to solve a terror case by remaining undercover.

Naqi's brother Taqi Ahmed (24) told reporters here that he and his associates have approached the National Human Rights Commission (NHRC), National Commission for Minorities, Delhi Police Commissioner and Union Home Minister P Chidambaram to obtain help for his "innocent" brother who has been wrongfully framed by the ATS in the serial blasts case which claimed 27 lives.

"My brother is innocent. He was helping the Special Cell (of Delhi police) from December 9, 2011 to January 9 recently after they had approached him for help in a case they were pursuing. We will go to the court and other forums to get justice for my brother," Taqi said at a press conference here.

Taqi was flanked by the representatives of Jamia Teacher's solidarity association and social organisation— ANHAD.

Taqi, during the conference, also claimed that he met the two officials of Special Cell, with whom Naqi had gone to Mumbai, two days back and they have assured him that they would stand by his brother's "innocence".

"The two Special cell officials assured me that they would go to the court and testify that my brother Naqi was indeed helping in their investigation and that he is innocent," he said.

Maharashtra ATS chief Rakesh Maria had yesterday announced in Mumbai the arrest of Naqi and said he was indoctrinated by IM head Yasin Bhatkal and also that Naqi helped the IM mastermind to rent the third floor flat in Habib Building at Byculla last year.

Two-three apartments were rejected before finalising the Habib building quarters and Naqi paid for it, Maria had said.

Maria had rubbished claims by Naqi's relatives that he was innocent; saying he had been in touch with Bhatkal since 2008 and even visited his place in Bihar and that he was fully aware of the latter's antecedents.

"We have evidence to corroborate this," Maria had said. Taqi also questioned why the ATS had seized the same mobile phone of his brother which the Special cell had scanned and kept with themselves for a week after they had approached him for help.

Manisha Sethi of the Jamia Teacher's solidarity association, who are helping the brothers, claimed during the conference that it was a case of "irresponsible investigation" by the Maharashtra ATS and that Naqi was "illegally detained" by them since January 9 and not as announced by Maria yesterday.

"The ATS should explain under what circumstances Naqi was arrested. It is a case of irresponsible investigation and irresponsibility towards the people who are accused in such cases," Sethi said.

Delhi police should clarify its stand on the arrest of Naqi who was a close contact of its Special cell, she added.

Shabnam Hashmi, a trustee of ANHAD, said that the entire probe in the case looks like a game of "one-upmanship" between investigative agencies and added that Union Home Ministry should intervene in the case.

She said Taqi and his family will knock the door of each and every organisation and authority which could help them in proving that Naqi is innocent and has no connection in perpetrating the July 13 blasts in the western megapolis of Mumbai.