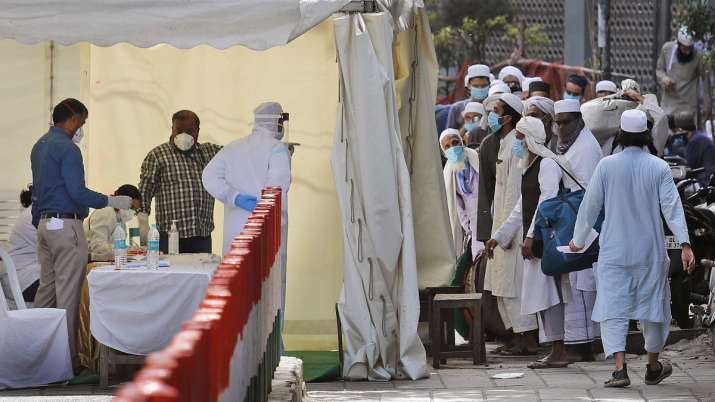 India has recorded at least 4,067 cases of the deadly coronavirus so far with 1,445 patients related to the Tablighi Jamaat, an official of the Ministry of Health said at a briefing Monday afternoon. The ministry's updated data came a day after it said the rate of doubling of COVID-19 cases in India accelerated to 4.1 days from the estimated 7.4 days due to the Jamaat event in Nizamuddin West last month.
Lav Aggarwal, Joint Secretary in the ministry, said about 76 percent of the coronavirus cases were reported in males and 24 percent in females. The death toll due to the infection in India stood at 109, the official said, adding that 30 of these died on Sunday.
The official said 63 percent of the coronavirus deaths were reported among people over 60 years of age, 30 percent in the age bracket of 40 to 60 years and 7 percent of victims were below 40 years in age.
Meanwhile, an official of the Union Home Ministry said over 25,500 Tablighi Jamaat members and their contacts have been quarantined in the country till now. Joint Secretary Punya Salila said that five villages in Haryana have been sealed and the residents quarantined as members of this Islamic organisation had stayed there. She said that 1,750 foreign-based members of the Tablighi Jamaat, out of the total 2,083, have been blacklisted till now.
Srivastava said that Union Home Secretary Ajay Bhalla has written to all states and Union Territories asking them to ensure that the supply chain of medical oxygen, critical for treatment of COVID-19 affected people, should go on smoothly while following norms of social distancing.  
According to an ICMR official, there is limited evidence on the efficacy of hydroxychloroquine to deal with COVID-19 cases and therefore, there is not enough proof to advise it for the general public. 
(With PTI inputs)
ALSO READ | Coronavirus crisis: Salary cut for PM, President, Vice President and MPs
ALSO READ | India COVID-19 death toll crosses 100-mark; positive cases exceed 4,000. Check state-wise tally
WATCH VIDEO