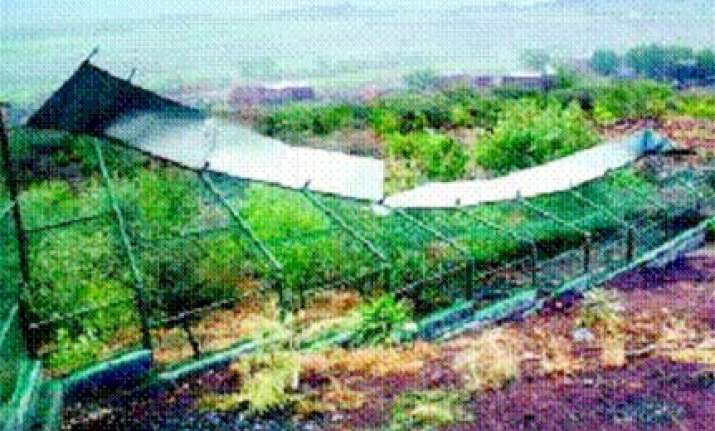 Tropical cyclone 'Phet' in the Arabian Sea is about 1100 km from Nalia in Kutch and is weakening as coastal areas of Gujarat received light to medium rainfall under its influence, Indian Meteorological Department officials said on Thursday. 

The cyclone has moved slightly towards the coast of Oman and "due to proximity to the land surface (near Oman), the system is showing sign of weakening," they said. 





"Further, due to changing environmental flow pattern, the system (Phet) would move slowly in a northwesterly/ northerly direction for next 24 hours and cross Oman coast by tomorrow (June 4) morning," they said, adding, "It would then weaken gradually, recurve northeastwards and emerge into north Arabian Sea by June 5 and move towards Pakistan coast." 




According to IMD officials, squally winds would blow at speeds of 40-50 kmph reaching to a maximum of 60 kmph along and off Gujarat coast during same period. 

They further said that sea condition would remain rough around Gujarat coast and adjoining north Arabian Sea and advised the fishermen not to venture into the sea in the next couple of days. 




Warning signals have been hoisted at all ports in the state, they said.  Overnight rains were reported from Jamnagar, Junagadh and Kutch districts. PTI 
PTI reports from Karachi:  More than 60,000 people living on Pakistan's Arabian sea coastline were evacuated and emergency declared in Sindh and Balochistan provinces, as tropical cyclone Phet closed in on the country.
Thousands of people were moved out from vulnerable villages along the coast in the Sindh province and another half a a million could be affected in neighbouring Balochistan, if the cyclone smashes into Pakistan, officials said.
President Asif Ali Zardari directed the armed forces and all government departments to be on full alert to tackle the possible fallout of the cyclone Phet, which has weakened over Oman and is now moving towards Pakistan's coastline.
"Cyclone Phet has almost reached the Oman coast and could recurve towards Pakistan's coastline in the next 24-36 hours," Met officials here said.
The authorities said hospitals have been put on alert and medicines and equipment stockpiled to meet any emergency. Officials said tinned rations had also been kept ready for emergency situation.
Met forecasters said they expect that the cyclone would unleash a fierce storm resulting in heavy rain with gale force winds which could uproot trees and powerlines.
They said that they did not expect the cyclone to be severe on the port city of Karachi, but the storm could wreck havoc in the villages on the Sindh and Balochistan coastline.  Sindh officials said they had moved out more than 60,000 people from the coastal villages to specially set up relief camps in the hinterland. PTI