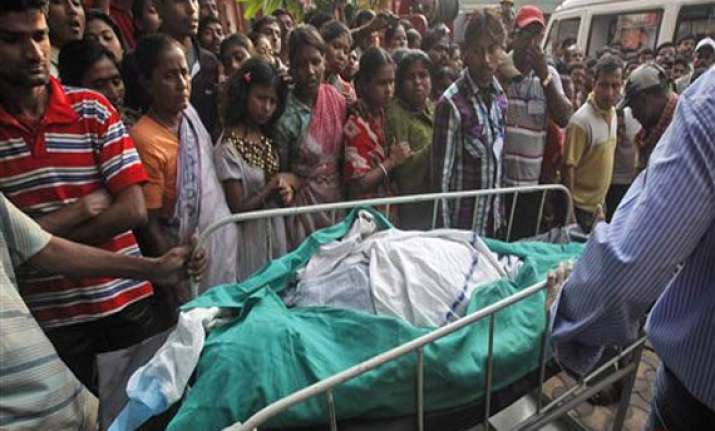 Kolkata, Dec 10 : As reporters pieced together tales of woe and desperation amidst acts of valour, one story stood out.
The Telegraph reported how 15-year-old Prakrita made a last plea to her father  crying "Baba, Amay banchao" and then the cellphone went dead.
"Baba amay banchao…. Baba…" was  Prakrita's last cry before the toxic gases in her lungs snuffed out her life.

Her father Dhananjoy Pal, who received her phone call, rushed to AMRI Hospitals in the neighbourhood but was barred by guards — for "security reasons" — from going up to the floor where she was admitted.

Standing helplessly in front of the hospital, he later received the news that his daughter, a Class IX student of Joyrambati Ramakrishna Mission Girls' School admitted to the hospital with a fracture in her leg, was dead.
Around him were dozens of others without any clue whether their near ones inside the hospital were alive or dead. Like Shyama Prasad Halder, whose daughter-in-law Chandrani was also admitted to the hospital with a fractured leg. His son Nilabjo, admitted to AMRI Salt Lake with a fracture, was frantically calling him for news of his wife.

"I don't know how I am going to tell him that Chandrani is no more. They had met with an accident on their way back to the city from Mukutmanipur. He was referred to Salt Lake and she was admitted here," said Shyama Prasad after identifying Chandrani's body at SSKM morgue.

Sudhaong Mog Chowdhury's relatives were repenting their decision to bring the 19-year-old from Tripura to the city hospital. "I brought my brother here after his motorcycle crash, thinking that he would get the best possible care but they have killed him," said Sudhaong's elder brother Anglafru, a sub-inspector with Tripura police. Sudhaong was to be released on Saturday.

"I heard about the fire and rushed to the hospital around 4am. We were allowed inside only at 5.30am," he added.

Many were consumed by guilt. "My aunt had called at 4.15am, pleading with us to rescue her, saying that the doctors and nurses had left them to die. She was gasping but we could not do anything," said Amit Chakraborty, nephew of Munmun Chakraborty, who was admitted with orthopaedic ailments.

Samrat Roy, whose uncle Jawahar Ganguly was admitted to the hospital on Thursday evening, saw the fire break out. He asked the authorities to discharge his uncle immediately.
"They had refused, saying the ICU was safe. My brother was left with no option but to see our uncle die," said Jawahar's niece Nandita Roy.

Among the dead was former Congress MLA Sisir Sen. "Baba was to be discharged yesterday but we deliberately prolonged his stay so that he would not find out about a cousin, whose last rites were performed during the day, had died," said his son Abhijit.

Two nurses from Kerala, Ramya Rajappan, 22, and Mineeta P.K., 22, died on duty.

Amid mourning, some fought with others over identity of bodies. Bratati Ganguly identified a woman as her mother Aparna Chatterjee.
Soumen Palit later claimed she was his mother Nilima Palit. The mark of a recent appendix operation proved him right. Bratati couldn't locate her mother till late on Friday.

Lack of information kept relatives on tenterhooks long after the fire was brought under control.

The reception of the main hospital building was deserted throughout the day. In the afternoon, the names of patients who had been shifted to AMRI hospitals at Salt Lake and Mukundapaur were announced.
When relatives urged the announcer to call out the names of those who had been shifted to SSKM and other hospitals, he refused saying: "The list has not been prepared."

"We were repeatedly failing to get through to the helpline," said a neighbour of Sangita Mallik, who was admitted to the neurosurgery wing.
Kamala Chatterjee's parents saw footage of her running for her life on a television news channel and rushed to the hospital but could not find her. Getting no information from the authorities, they moved from hospital to hospital looking for their daughter.