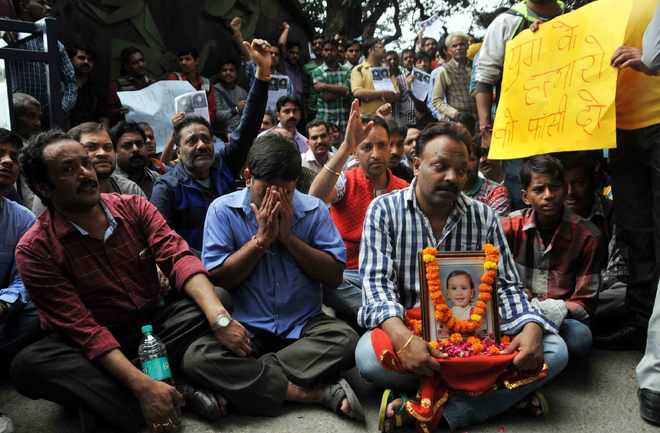 Three persons were today awarded death sentence by the district and sessions court for abduction and murder of a four-year-old boy in 2014. Chander Sharma, Tajender Singh and Vikrant Bakshi were last month found guilty under Sections 302 , 347 and 201 of the Indian Penal Code for the kidnapping and murder of Yug Gupta. 
The case had created headlines in 2016, when the skeleton of the missing boy was found in the water tank of a house in Keleston locality. The details of the case were so shocking that it had created an outrage, leading to a public demand of capital punishment to the guilty. 
Yug was kidnapped on June 14, 2014, by his neighbour Chander from the Ram Bazaar area. Chander lured him by offering a chocolate and took him to Tajender's godown situated just above the shop of Yug's father. Later, he was bundled him in a cardboard box and taken to Chander's rented house at Ramchandra Chowk in Tejinder's vehicle.
The skeletal remains of the boy were found in a water tank at the Keleston locality two years later on August 22, 2016, leading to widespread protests across the town. The child was tortured, starved and forced to consume liquor before he was thrown into the tank.
While Chander is a law student at Himachal Pradesh University, and his father runs a grocery store in Ram Bazaar, Tajender owns a cosmetics shop in Ram Bazaar, and Vikas is an engineering student. On August 6, the district and sessions court had convicted the three, but had not pronounced the quantum of the sentence.
Investigation revealed that Chander, who was an acquaintance of Yug's father Vinod Gupta, hatched the conspiracy to kidnap the child for ransom. The accused demanded Rs 3.6 crore from his father. A video grab on Vikrant's mobile phone, in which he was seen pleading for his life, led to breakthrough in the case. The CID, which had overtaken the case from local police in August 2014, arrested the three on August 22, 2016.
An angry crowd thrashed Chander and Tajinder at the district courts complex when they were taken there for a court hearing in August last year.