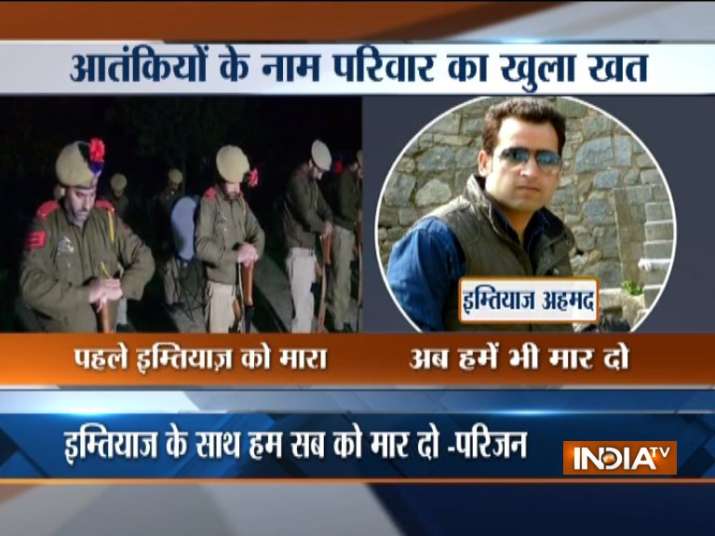 In an emotional outburst on Facebook, a family member of martyred Jammu and Kashmir policeman Mir Imtiaz on Monday dared the terrorists to now kill the entire family.
In an "Open letter to the murderers of Sub Inspector Mir Imtiaz", posted on the slain police officer's Facebook page, the family member, who preferred to remain anonymous, said that by killing the SI "you have killed a loving son of an aged mother, an obedient son of an old father."
"You killed a man who loved Kashmir...come and kills us all," the open letter added.
 "U killed a brother who was the only support of his brother and sister.. U killed every dream of a young girl whom he wanted to marry (sic)," the post read.
The post termed Mir as a devout Muslim who had excelled in his studies as well as profession.
"U killed a man who had suffistic thoughts... Someone who read suifisim vastly... Who read Karal Marx and every other field of thought..U killed a man who topped his Masters batch... Who was among the toppers of his S I batch (sic).
"Most importantly you killed someone who loved his Kashmir and its people like anything.. Whose only wish was to see a happy Kashmir," the open letter read.
Watch: Martyred J-K policeman Mir Imtiyaz's family's post on FB
The writer said Mir was on his way to see his aged parents and "trouble-stricken" sister and referred to the niece of the deceased who has been since repeating that she is missing her "mammu" (mother's brother).
"But wen u killed him y didn't u kill us all.. Y didn't u kill hs Mom Dad sister brother and the women whom he wanted to spend the rest of his life vd.. (sic)
"How can anyone console them...and we all just wanna ask his killers y did they not kill us all.. Plz come and kill us all... We can't live without him (sic)," the passionate letter said.
A peace votary, 30-year-old Mir was shot dead by militants at Wahibug in the militancy-infested Pulwama district of South Kashmir on Sunday afternoon when he was on his way home. 
The desperation to see his parents prompted Mir to shave off his beard and change appearance in his unsuccessful attempt to dodge militants who had laid a death trap for him in his village, his colleagues said on Sunday.
(With PTI inputs)