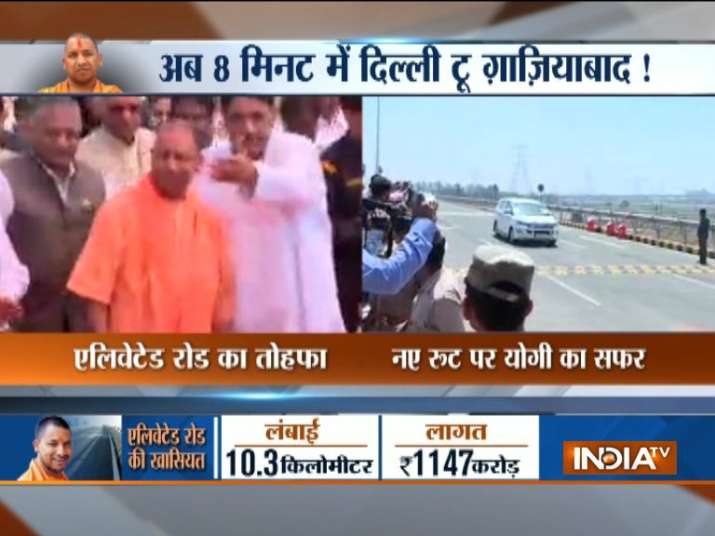 Uttar Pradesh Chief Minister Yogi Adityanath on Friday inaugurated Ghaziabad's much-awaited Hindon Elevated Road which connects Raj Nagar Extension to UP Gate at Delhi-UP border in the city.
The elevated road has finally been opened to public on March 30.
Here are few important points to know about the elevated road in Ghaziabad- 
1. The 10.3km-long elevated road has been built to allow vehicles to travel from UP Gate on NH-24 till Raj Nagar Extension from both sides. 
2. The elevated road is the longest flyway in India which is built on single-pier pillars.
3. The project missed many deadlines in the past due to late in clearances from several departments and agencies.
4. The project got the clearance from environment agencies on March 11.
5. The road has been built at a cost of more than Rs 1,100 crore over three years.
6. The elevated road will connect UP gate on NH-24 and Rajnagar extension in Ghaziabad. 
7. The elevated road has shortened over 60 minute-long journey from Ghaziabad to Delhi border to almost 18 minutes.
8. The road will also connect commuters from the NH-24 to Raj Nagar Extension and towards Meerut and Haridwar.
9. The road has been constructed on Transit-oriented Development (TOD) basis.
10. The vehicle owners are allowed to drive on an average speed of 80-km/per hour on this elevated road.
11. A Samajwadi Party MLC, Rakesh Yadav, had allegedly inaugurated the road on March 16. He had claimed that the project was initiated and built during Samahwadi Party government's regime in the state.
12. Later, the police had lodged an FIR against Yadav.
13. Later, the Ghaziabad District Magistrate said that the inauguration of the elevated road by the SP MLC was unacceptable and it will be open for public after a formal ceremony.
14. On September 20, 2013, the GDA Board had given its go ahead to build the road at an estimated cost of Rs 1,142 crore.