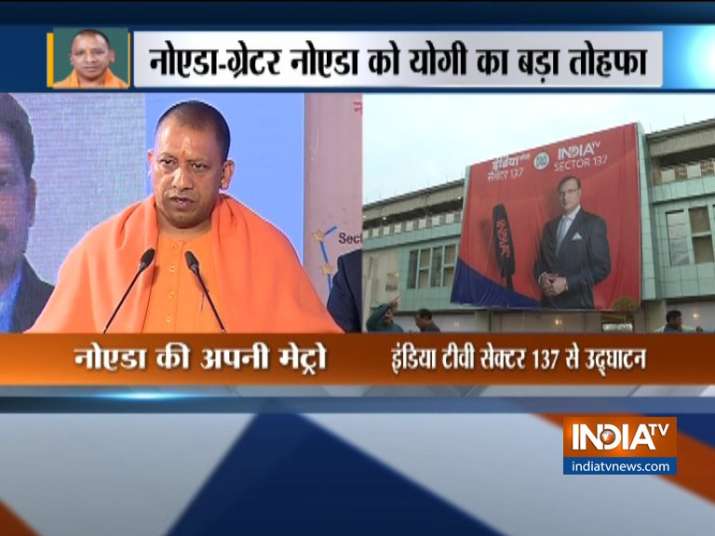 The much-awaited 'Aqua Line' of Metro Rail to Greater Noida was flagged off by Uttar Pradesh Chief Minister Yogi Adityanath on Friday. The service will be opened for the public from Saturday, the Republic Day. On the first day of its run on January 26, it will ply between 10.30 a.m. to 5 p.m. After that it will run between 6 a.m. and 10 p.m., providing a much needed relief to commuters in the National Capital region. 
The Metro trains will run at an interval of 15 minutes. In the first phase, 11 trains will run through 21 stations between Noida Sector 51 and Depot Metro station.The lowest ticket charge would be Rs 10 and the highest would be of Rs 50. Commuters could buy QR-coded paper tickets or use smart cards. The smart cards being used for the Delhi Metro will, however, not be valid for travel in the Noida Metro.
HIGHLIGHTS: Aqua Line inauguration by UP CM Yogi Adityanath
WATCH VIDEO: UP CM Yogi Adityanath inaugurates Noida Metro's 'Aqua Line' from India TV Sector 137 station
We are working for everyone. For us development is important: CM Yogi 
We have given free electricity connections to 94 lakh families in the state: CM Yogi   
Within two years, we built 2.60 crore toilets in UP: CM Yogi
We have completed the work in record time unlike the previous governments: CM Yogi
Work of metro in pipeline in Kanpur and Agra: CM Yogi 
Ghaziabad will be connected to metro soon: CM Yogi
I have no problem in going any party of the state: CM Yogi
Metro work was completed in record time: CM Yogi
Sixteen stations will have parking facilities initially. 
The Aqua line will halt on the Sector 76, 101, 81, NSEZ, Noida Sector 83, 137, 142, 143, 144, 145, 146, 147, 148, and Greater Noida's Knowledge Park II, Pari Chowk, Alpha 1, Delta 1, GNIDA Office and Depot metro stations, said the report.
The trains are designed to run at a maximum speed of 80 kmph, clocking an average speed of 37.5 kmph.
The Aqua Line of the Noida Metro Rail Corporation (NMRC) will have interchange sections at various stations. Commuters will have to get down at the Sector 52 metro station of the Blue Line and reach the Noida Sector 51 station of the Aqua Line, covering a stretch of around 200 metres. 
Similar to the Delhi Metro, there would be different seats for ladies in the Noida Metro. Seats reserved for women, senior citizens and differently abled persons would have different colours.
The Aqua Line, whose construction started in May 2015 was initially expected to be opened for public in November 2018, then December.
In an effort to enhance the quality of life for metro commuters on the Aqua Line and boost the local ecosystems of art and culture, Kiran Nadar Museum of Art (KNMA) and Noida Metro have collaborated for unique public art installations at 10 stations.
WATCH VIDEO:

As metro commute becomes artful, the rail corridor between Sector 51 station in Noida and the Depot Station in Greater Noida saw the two names joining hands to make arts more public and part of routine life.
What resulted out of a collaboration between KNMA and Noida Metro Rail Corporation (NMRC), is the project 'Transform through Art' where the museum has conceptualised and installed a series of public art installations across 10 stations.
Each art installation is specifically designed to inspire and educate audiences about the multifaceted dimensions of Indian culture and visual arts heritage, highlighting the social, cultural and environmental milieu of the city, KNMA told IANS.
The 200 different wall art designs on varied custom themes are hand painted by a team of over 50 artists.
Done with different artistic techniques and styles, the artworks will showcase contemporary, modern, spray, line, posterize-effect and abstract art repertoires.
WATCH VIDEO:

"Our collaboration with the NMRC is a pioneering step in the incorporation of public art with urban development. It serves two purposes: enhances the quality of life for commuters, and encourages the local ecosystems of art and culture.
"The need to focus on quality of life is critical to the evolution of an aspirational India. Art and culture, in their traditional as well as contemporary forms, are essential dimensions of this new consciousness. We feel that creating museums and other spaces help greater public appreciation of art and culture," art patron and avid collector Kiran Nadar said.
The works seek to celebrate the heritage of art in India, along with educating and sharing the beauty of art with the public, and honouring India's folk and tribal art heritage.
WATCH VIDEO:

(With inputs from agencies)