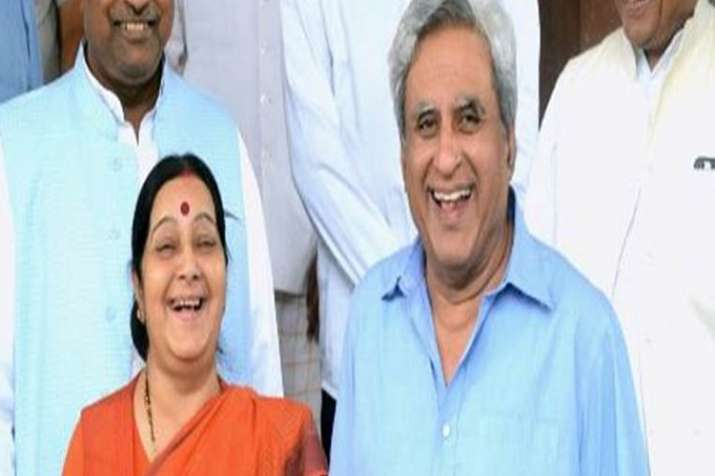 Days after being trolled and abused on Twitter over a controversy involving the issuance of passport to an inter-faith couple, External Affairs Minister Sushma Swaraj was again trolled on the micro-blogging site on Saturday and accused of appeasing Muslims.
Her husband Swaraj Kaushal tweeted a screenshot of a post by a Twitter user who asked him to "teach" the minister "not to do Muslim appeasement".
Earlier on June 25, Sushma Swaraj was trolled on Twitter after a regional passport officer in Uttar Pradesh's capital Lucknow was transferred for allegedly harassing an inter-faith couple.
Swaraj, who returned to India on Sunday after a week-long visit to four European nations, said she felt "honoured" that a few Twitter users had targeted her over a controversy. "I was out of India from 17th to 23rd June 2018," the minister said. "I do not know what happened in my absence. However, I am honoured with some tweets. I am sharing them with you. So I have liked them."
Mohammad Anas Siddiqui and his wife Tanvi Seth complained that an officer, Vikas Mishra, had asked Siddiqui to convert to Hinduism and instructed Seth to change her name in all her documents. After Seth tweeted to Swaraj and sought her help, DM Mulay – the secretary of passport, visa and overseas Indian affairs at the ministry – replied, saying he had sought a report from the regional passport officer and that "appropriate action" would be taken.
Mishra was served a show-cause notice and transferred.
A section of social media had attacked Swaraj and the ministry for taking action against Mishra, claiming that he was just doing his duty.
The minister had retweeted some of the tweets that were even abusive and communal in nature.
Asked whether the Ministry of External Affairs is contemplating taking any action against the trolls, Ministry spokesperson Raveesh Kumar had said, "The EAM (External Affairs Minister) has responded to those malicious tweets and the trolling which she was subjected to in her own way and in a manner which she deemed fit. I don't think I have anything further to add on that."