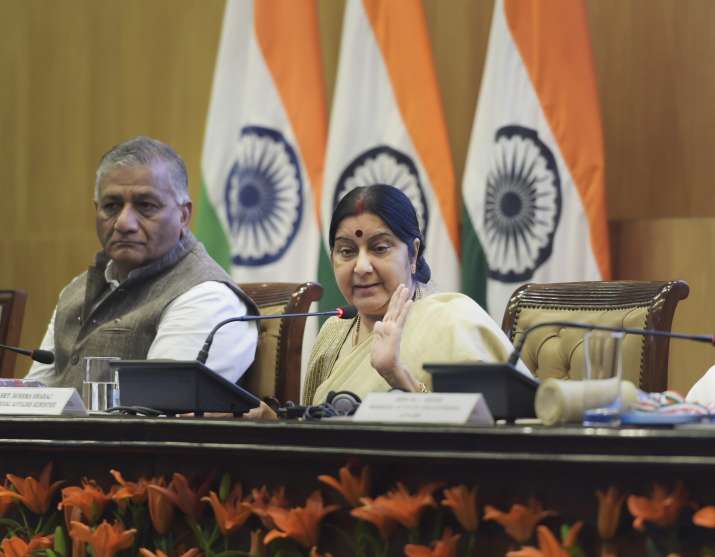 External Affairs Minister Sushma Swaraj on Monday reiterated that was a status quo on India-China dispute site in Doklam. 
Addressing a press conference at the completion of four years in power of the Narendra Modi-led government, the minister said: "I am repeating again, at the Doklam faceoff site there is no change in the situation, status quo is continuing."
Swaraj added that the world praised India for its approach towards handling the Doklam dispute. 
However, she cautioned against falling prey to non-existant disputes between the two countries. "I got a tweet from someone who was visiting Mansarovar that they were not being allowed to take a holy dip in the Mansarovar jheel. This wasn't the situation. There is always a designated place where you can take a bath, you cannot take a dip just anywhere in the river." 
Also read | Terror and talks cannot go together: Sushma Swaraj delivers stern message to Pakistan
Mansarovar, a holy pilgrimage site for Hindus, is within Chinese territory. The country gives special permission to the Indian government to hold the annual yatra under the strict guidance of Indian Army. 
During the presser, the EAM also hit back the Congress party for alleging that India's relationship with China has deteriorated under Modi regime. 
"Congress's allegations that our relations with Russia have deteriorated, are far from the truth, only recently PM Modi and President Putin held a successful informal summit," Swaraj said. 
The minister also took exception to Congress' allegation that she only handled the 'Twitter', while her ministry was being run from the Prime Minister's office. In a stern reply, she said: "If I only handle Twitter, then how come I have also the information about foreign policy."