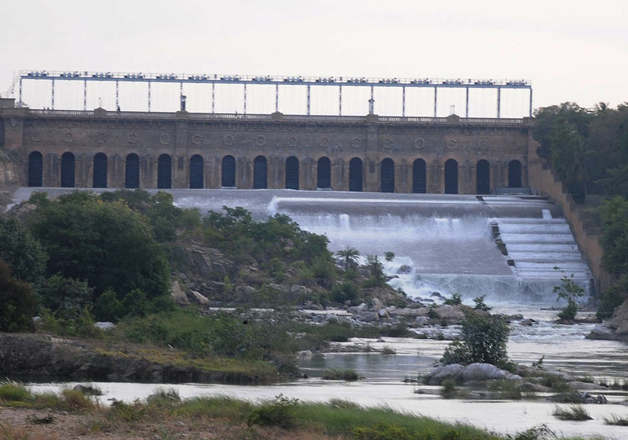 Despite violence in the Cauvery River basin region of Mandya during protests by farmers and pro-Karnataka groups, the Karnataka government today morning started releasing water to Tamil Nadu to abide by the Supreme Court's directive.
This comes a day after CM Siddaramaiah, who chaired an all-party meeting in the state capital where the opposition BJP and JDS opposed the move, announced that Karnataka will release water to Tamil Nadu 'with a heavy heart' despite severe hardship for water in the state.
"As we cannot defy a constitutional body like the Supreme court, 'with a heavy heart' we have decided to release the water as directed by the apex court," Siddaramaiah told reporters on Tuesday night after nearly a three-hour long all-party meeting convened by him in Bengaluru.
He said that the state will 'try' to get enough and more water for the farmers in the Cauvery basin apart from providing drinking water to the districts which depend on the river.
Mandya (6/9/2016): Karnataka begins release of Cauvery water to Tamil Nadu; farmers hold protest against the release pic.twitter.com/qpgodpVfbO

— ANI (@ANI) September 7, 2016
He also said the state would approach the Supreme Court with a modification petition explaining the its difficulties in implementing its order, directing release of 15,000 cusecs per day to Tamil Nadu for next 10 days, and seeking change in it and also move the Cauvery Supervisory Committee.
According to the state water resources department, due to deficient rainfall during the southwest monsoon this year, the four reservoirs in the Cauvery basin have only 55 per cent of the water.
Scores of farmers in Karnataka are protesting against the Supreme Court's directive to the state government to release 15,000 cusec of water from the Cauvery river to neighbouring Tamil Nadu for 10 days.
Yesterday, protesters burnt tyres and blocked Bengaluru-Mysuru highway. As a safety measure, the Karnataka government pulled off around 700 buses from the roads.
In Tamil Nadu, farmers from the Delta region expressed unhappiness, claiming 15,000 cusec was inadequate for their farming needs and described it as 'too little too late'.
Mandya district, the nucleus of Cauvery politics, saw a bandh with protesters holding road blockades and dharnas at several places, as hundreds of security personnel, including Central forces, were deployed in the Cauvery belt to maintain law and order.
One thousand million cubic feet (tmcft) of water is equivalent to 28,317 million litres of water. A cusec, which is a measure of flow rate of water per second, is equivalent to a flow of 28.317 litres per second.
The top court had on Monday also directed both the states to make a representation before the supervisory committee which would later tell the court about the ground reality.