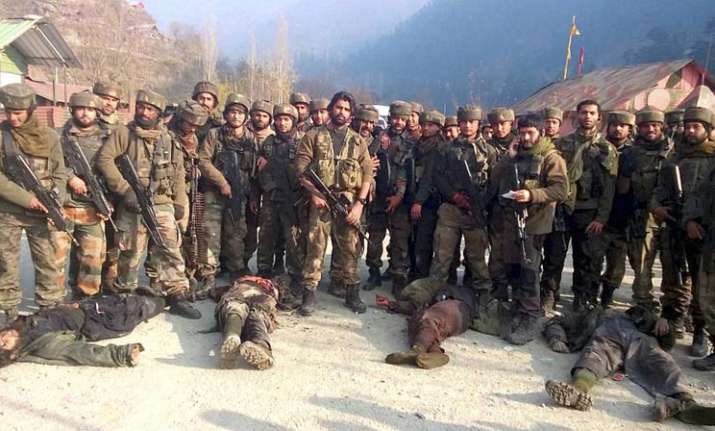 The two Muzaffarabad-based guides, who facilitated the four Uri Army base attackers, could identify one of them as the faces of the rest three were reportedly burnt beyond recognition in the operation to neutralise them. 
According to the two guides, Faisal Hussain Awan and Ahsaan Khursheed, who were apprehended by villagers in Uri and handed over to the security forces, the sole identifiable terrorist was Hafiz Ahmed son of Feroz, who is a resident of Dharbang, Muzaffarabad, says a Times of India report. 
Sources said the DNA samples of the slain terrorists had been extracted, and it could help identify them if the National Investigation Agency (NIA) manages to trace thei origins and parentage during the investigation. 
The two guides facilitated the four terrorists in infiltrating the LoC from Peer Chandna Sai, Gyarahbad, in PoK and are currently being interrogated by the NIA. 
On Tuesday, India handed over the information available on the Pakistan link of Uri attackers and their guides to Pakistani envoy Abdul Basit. 
Foreign secretary S Jaishankar also shared proofs that confirmed the Pakistani origin of the attackers, including the markings and batch numbers on food packets and medicines recovered from them. 
On the contrary, Pakistan has so far rejected allegations of its involvement in the Uri strike.
In January this year, an air force base in Pathankot near the border in Punjab was attacked by Pakistani terrorists in which seven military personnel were killed. 
The NIA had established the identities of the four terrorists and shared the information with the Pakistani team that visited India in March to "investigate" the attack. Since then, Pakistan has said it has no conclusive evidence that the attackers were its citizens.
Meanwhile, the intelligence agencies have noted a major spike in infiltration across the Loc by Lashkar-e-Taiba (LeT) and Jaish-e-Mohammad (JeM) terrorists over the past few months. 
"Around 100 terrorists have crossed the border so far this year, of which 40-50 were neutralised. Infiltration is expected to go up further. We apprehend heightened terrorist activity in the Kashmir Valley in the coming months, targeted mostly at security forces and their camps," a senior intelligence officer was quoted by Times of India as saying.