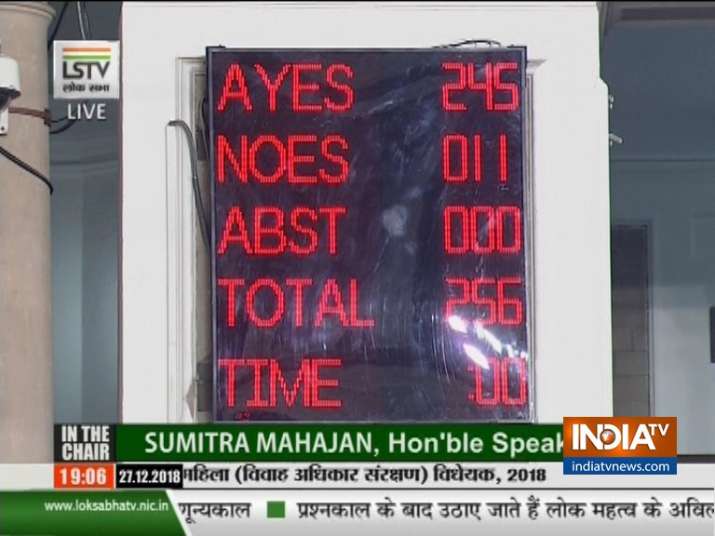 Triple Talaq Bill Debate in Lok Sabha HIGHLIGHTS
Lok Sabha on Thursday passed the triple talaq bill by 245-11 votes with the government rejecting the contention that it was aimed at targeting a particular community.
The opposition, which had been demanding that the bill be referred to a 'joint select committee', staged a walkout when its demand was rejected by the government.
Congress, TMC, AIADMK and RJD staged walkout soon after Law Minister Ravi Shankar Prasad concluded his reply.
Triple Talaq Bill debate in Lok Sabha HIGHLIGHTS:
7:15 pm: Lok Sabha passes triple talaq bill by 245-11 votes.
7:00 pm: Owaisi's third amendment rejected by the House.
6:54 pm: Congress, Left parties,NCP,SP,RJD, TMC, AAP and DMK walk out from the house.
6:50 pm: Owaisi's second amendment also rejected.
6:47 pm: Owaisi's amendments rejected as it failed to muster enough support in Lok Sabha
6:43 pm: Congress and AIADMK walk out from the Lok Sabha.
6:28 pm: Deterrence always important for containing crime, says Law Minister RS Prasad
6:14 pm: "Opposition's demand for joint select committee has possibly only one reason,'why it is criminalized?'When Parliament has passed bills calling for harsh punishment for other crimes then why no one said what will happen to families of culprits," said Ravi Shankar Prasad. 
5:55 pm: Taking a jibe at BJP, Owaisi asks about whereabouts of the minister ( MJ Akbar) who defended the bill last time.
5:50 pm: Why should a person go to jail for giving triple talaq when the SC has declared that divorce illegal, asks Owaisi
5:50 pm: Govt trivialising triple talaq bill, says Asaduddin Owaisi
5:02 pm: Instant triple talaq is a criminal offence even under Islamic jurisprudence, says Smriti Irani
4:12 pm: Bill is aimed at instilling fear in minds of perpetrators, says Mukhtar Abbas Naqvi
03:16 pm: Rakh hausla wo manzar bhi aayega...pyase ke paas chal ke samandar bhi aayega..: Meenakshi Lekhi
03:12 pm: Those who just want to do divisive politics, politics of appeasement would never want such a law, says Meenakshi Lekhi
03:10 pm: The government has made the bill compoundable which mean such cases can be resolved in the court of a magistrate: Meenakshi Lekhi 
02:58 pm: Congress talks about 'rights of divorce' while we talk about 'rights of marriage'. Would like to ask those opposing the Triple Talaq Bill here that in which suraa of the holy Quran is talaq-e-biddat mentioned? This is not he vs she, these are issues of human rights violation: Meenakshi Lekhi
02:54 pm: There can be a Uniform Civil Code but there is no Uniform Religious Code in the country, says Meenakshi Lekhi
02:51 pm: This government is not only pushing for empowerment of women but women-led empowerment, says BJP MP from New Delhi Meenakshi Lekhi
02:48 pm: This law is about penalising a Muslim man. This law will just give a criminal case to a Muslim woman. If this government seriously wants to empower Muslim women then do the right thing by sending it to the select committee, says Congress MP Sushmita Dev
02:40 pm: Humein mooh mein Ram, bagal mein chhuri se aitraaz hai...isliye iss bill ko Parliament ke select committee mein bheja jaye: Congress MP from Silchar Sushmita Dev​
02:21 pm: 20 Islamic nations have banned triple talaq, then why can't a secular nation like India? I request that this should not be looked through the prism of politics: Ravi Shankar Prasad
02:20 pm: This bill is not against any community, religion or belief. This bill is for the rights of women and about justice, says Law Minister Ravi Shankar Prasad while tabling Triple Talaq Bill in Lok Sabha
02:00 pm: Discussion over Triple Talaq Bill begins in Lok Sabha amid sloganeering and shouting by Opposition benches. Leader of Opposition Mallikarjun Kharge demands the bill to be sent to select committee. "The government should refrain from interfering in matter of religion," says Kharge
12:51 pm: Congress party holds meeting over triple talaq in Parliament. Sonia Gandhi, Ahmed Patel and other party leaders are present in the meeting.
12:35 pm: Lok Sabha adjourned till 2 PM amid protests over Rafale and Cauvery issues
11:24 am: Rajya Sabha adjourned for the day over Cauvery and other issues
11:20 am: Lok Sabha adjourned till 12 pm after uproar by opposition over Rafale deal
10:47 am: Discussion on the bill likely around 2 pm today
10:45 am: We will take part in the discussion and keep forward our opinion. We will appeal to the government that it should not interfere in a religious matter: Kharge
10:30 am: Congress issues whip to its Lok Sabha MPs to be present in the House today: Sources
9:35 am: Union Law Minister Ravi Shankar Prasad to move the triple talaq bill to be taken up for discussion in the Lok Sabha today
To replace an ordinance issued in September, on December 17, a fresh Bill to make the practice of triple talaq among Muslims a penal offence was introduced in Lok Sabha. The fresh bill will supersede an earlier bill passed in the Lok Sabha and pending in the Rajya Sabha. The earlier bill was approved by the Lower House.
What the proposed law says?
Under the proposed law, giving instant triple talaq will be illegal and void, and will attract a jail term of three years for the husband.
But amid opposition by some parties in the upper house, the government had then cleared some amendments, including introduction of a provision of bail, to make it more acceptable.
However, as the bill continued to face resistance in the Rajya Sabha, the government issued an ordinance in September, incorporating the amendments.
An ordinance has a life of six months. But from the day a session begins, it has to be replaced by a bill which should be passed by Parliament within 42 days (six weeks), else it lapses. The government is at liberty to re-promulgate the ordinance if the bill fails to get through Parliament.
Introducing the bill, Law Minister Ravi Shankar Prasad said despite the Supreme Court striking down the practice of talaq-e-biddat (instant triple talaq), terming it unconstitutional, divorces in this form were taking place.
Citing details of instant triple talaq cases, the government had last week informed Lok Sabha that till now 430 incidents of triple talaq have come to the notice of the government through the media.
Of these, 229 were reported before the Supreme Court judgment, while another 201 came to the notice after it. These cases were reported between the period of January 2017 and September 13, 2018.
WATCH VIDEO:
(With PTI inputs)