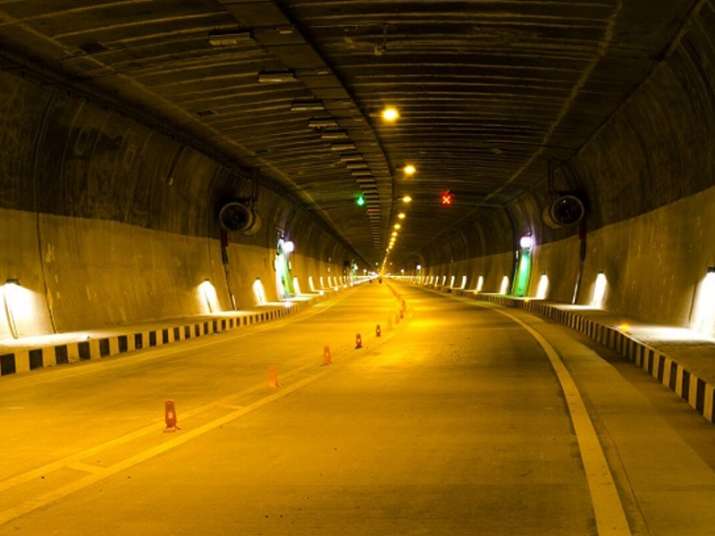 Prime Minister Narendra Modi will on April 2 inaugurate Asia's longest bi-directional road tunnel on the Jammu-Srinagar National Highway. 
The Chenani-Nashri all-weather 10.89 km long tunnel between Udhampur and Ramban is part of the proposed widening of NH-44 (old NH-1A) from Jammu to Srinagar. It has been built at a cost of Rs 2,519 crore in a record four years on the hilly terrain of the border state.
The tunnel, located at an elevation of 1,200 metres – thrice the height of Empire State building, is set to become a lifeline for the state which is hit by militancy exported from Pakistan and unfavourable weather condition for four to five months. 
According to an estimate, the twin-tube tunnel will result in a saving of over Rs 27 lakh in fuel per day. Besides, it will boost economic activity and tourism in the state. 
The distance between Jammu and Srinagar is approximately 290 km and it takes around 7 hours to cover the distance. Once the tunnel becomes operational, it will cut the travel distance between the two cities by 41 km and time by around two hours. 
The tunnel will also provide better connectivity to people in Kishtwar, Doda and Bhaderwah in the Jammu region, thus giving a push to the transport activities. 
Another important aspect is that the opening of the tunnel will reduce traffic jams that the National Highway-1A is prone to on account of snowfall and avalanches in winters at Patnitop. Traffic congestion on the this section of the highway has been a big concern for the NHAI. 
During the winter season, the movement of trucks and other vehicles almost comes to a standstill situation due to the unfavourable climate.
One interesting fact is that the tunnel had precluded large-scale deforestation as tree cutting was not required.
Even on the security front, the tunnel is equipped with world-class safety features. Constructed by Infrastructure Leasing and Financial Services (IL&FS), the tunnel has full transverse ventilation system. 
It has also fully-integrated tunnel control system with ventilation, communication, power supply, incident detection, SOS call box and fire-fighting.
Fitted with intelligent traffic mechanism, the tunnel has fully automatic smart control and no human intervention will be required for its operations. 
Very few tunnels in the world have fully integrated tunnel control and the Jammu one is fitted with world-class safety features for detection of accidents and fire with a parallel 9-km long escape tunnel. 124 cameras and a linear heat detection system inside the tunnel will alert an Integrated Tunnel Control Room (ITCR) located outside to monitor and intervene.
Travel will cost an LMV vehicle Rs 55 for one side and Rs 85 for to-and-fro journey and Rs 1,870 for one-month travel. Bigger vehicles like mini buses will have to pay Rs 90 as one side toll and Rs 135 for both sides. Buses and trucks will have to shell out Rs 190 as one-side trip and Rs 285 for a two-way journey.