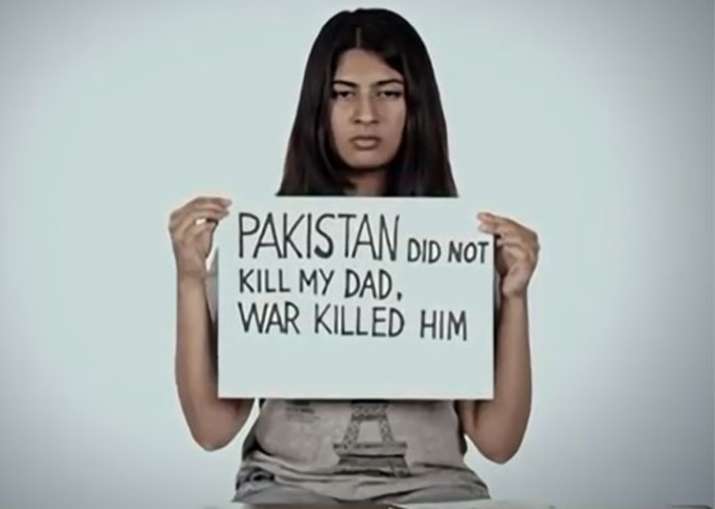 The 20-year-old Delhi University student, whose now-viral online campaign against RSS-backed student group Akhil Bharatiya Vidyarthi Parishad (ABVP), has become the focus of a social media storm with even senior ministers criticising her stand.  
Lady Sri Ram college student Gurmehar Kaur, daughter of Kargil martyr Captain Mandeep Singh, has alleged that she received rape threats over her stand against campus violence and has moved the Delhi Commission for Women with a complaint.  
Delhi University's Ramjas College had on Wednesday witnessed large-scale violence between members of AISA and ABVP workers. The genesis of the clash was an invite to JNU students Umar Khalid and Shehla Rashid to address a seminar on 'Culture of Protests' which was withdrawn by the college authorities following opposition by the ABVP. 
After the clash, Kaur had changed her Facebook profile picture holding a placard which read: "I am a student from Delhi University. I am not afraid of ABVP. I am not alone. Every student of India is with me. #StudentsAgainstABVP".  
In another placard, she said, "Pakistan did not kill my father. War killed him."  
Here is all that is being said on the controversy:  
Kiren Rijiju, Minister of State for Home Affairs: Who's polluting this young girl's mind? A strong Arm Force prevents a war. India never attacked anyone but a weak India was always invaded. Some people say they need Freedom in India. Listen to those people taking shelter in India after facing torture in neighbouring countries. 
Rahul Gandhi, Congress vice-president: Against the tyranny of fear we stand with our students. For every voice raised in anger, intolerance and ignorance there will be a Gurmehar Kaur. 
Venkaiah Naidu, Union Minister for Information & Broadcasting: Certain misguided sections are trying to mislead young population, create social tensions and hurt sentiments of people of India. Having a different opinion apart from majority opinion is agreeable but not disintegration. Nobody can advocate disintegration. 
Pratap Simha, BJP MP from Mysuru: Posted an image on Twitter with the pictures of Gurmehar Kaur on one side and Dawood Ibrahim on the other. In the image, the girl is seen holding a placard "Pakistan did not kill my dad, war killed him" while Dawood is seen holding a notice which reads: "I didn't kill people in 1993, bombs killed them." 
He accompanied the image with the text: "At least Dawood did not use the crutches of his father's name to justify his anti-national stand."  
Virender Sehwag, ex-cricketer: Sehwag shared an image of his holding a placard saying, "I did not score two triple centuries. My bat did."  
Randeep Hooda, actor: Sharing Sehwag's picture, Hooda said, "She (Gurmehar) is being made a pawn."  
"What's sad is that the poor girl is being used as political pawn...It absolutely wrong..have a feeling it's not limited to that in interpretation (sic)" he said in another tweet.  
Swati Maliwal, DCW Chairperson: Police must take action against those boys giving rape threats to Gurmehar Kaur and set an example. 
Manish Tewari, Congress spokesperson: You may not like what the person thinks but trolling, mindless threats... trolling emanating from people whom the Prime Minister follows. This is the worst form of state intimidation and this is not how democracies and democratic countries function. It is extremely unfortunate and highly reprehensible. Needs to be condemned in the strongest terms that an alternative point of view, if not liked or accepted, will be met by state intimidation and state-sponsored violence whether it is in the real or virtual world.  
Randeep S Surjewala, Congress spokesperson: Rape threat to a 20year old student & Kargil Martyr's daughter is BJP-ABVP brand of 'nationalism'. Ghastly & horrific. No wonder ABVP now stands for 'Aao Bhaiya Vidyarthee Peetein' (Come brothers lets beat up students).  
"Speaking the 'truth' is now 'pollution'. New normal by Modiji's ministers," he tweeted in response to Kiren Rijiju.
Sitaram Yechury, CPI (M) Rajya Sabha MP: Essence of campus politics is flowering of different ideas. Any attempt to curb them is an effort to dominate universities. All efforts to bully and threaten students and others not doing the Sangh's bidding will be resisted and pushed back.