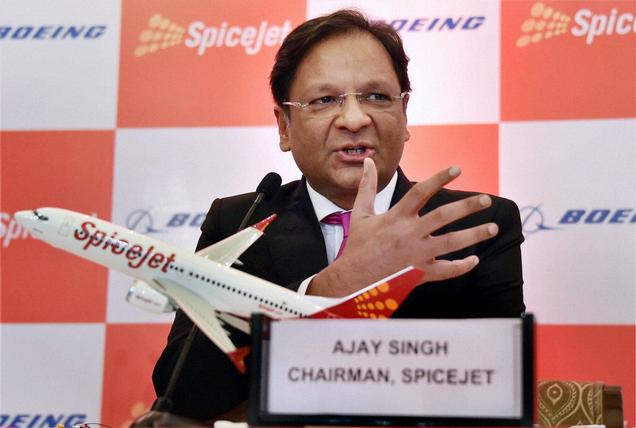 Ajay Singh, born and brought up in Delhi's Maharani Bagh, is an accomplished businessman and a first-generation entrepreneur credited for turning around the fortunes of low cost airline SpiceJet, an airline he founded before selling off his majority stakes in 2005.
Singh, however, bought back his share when the company was in dire straits and steered it to a profit-making venture. Singh has been the director of SpiceJet Limited since May 2015.
He also has an extensive experience in airlines operations and information technology.
Singh, who has been a part of the Bharatiya Janata Party's core advertising team, has been involved in BJP's election campaigns in 1999, 2004 and 2014. Ahead of the 2014 Lok Sabha elections, the 52-year-old Singh was in news for coining the slogan "Ab Ki Baar Modi Sarkar".
He also served as an Officer on Special Duty (OSD) in the BJP-led NDA government.
When BJP's Pramod Mahajan became the Information and Broadcasting (I&B) Minister, Singh had served in government as adviser to the Ministry of Communication and Information Technology and the Ministry of Information and Broadcasting . It was during this time that he helped in the launch of DD Sports.
Last year, Singh was also elected as president of Boxing Federation of India. Singh, the Chairman and Managing Director of Spicejet Airlines, got 49 votes against the 15 that his rival -- Rohit Jainendra Jain of Delhi -- polled in the election which had observers from the International Boxing Association (AIBA) and the Sports Ministry to monitor the proceedings.
Singh holds Master's degree in Business Administration from Cornell University and Bachelor's Degree in Law from University of Delhi. He also holds Bachelor of Technology degree from Indian Institute of Technology.
Singh, whose father hailed from Alwar and mother from Meerut has been an alumnus of Delhi's St. Columba's School.