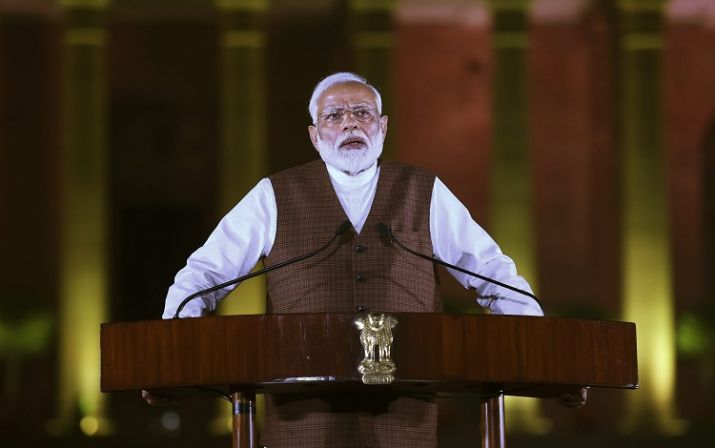 Narendra Modi is set to be sworn in as the 16th Prime Minister of India on Thursday at the Rashtrapati Bhavan in New Delhi, where BIMSTEC leaders and heads of state from Mauritius and Kyrgyzstan will be present among other foreign dignitaries. 
Meanwhile, curiosity is building up as to who will get which ministry. Here's an insight:
Amit Shah: Having worked for five years as the BJP President, Amit Shah is now likely to be the Home Minister, replacing Rajnath Singh. Shah was MP of the Rajya Sabha from 2017 to 2019, the indirectly elected body of Parliament, co-representing Gujarat from which he resigned in Spring 2019 to contest the Gandhinagar seat in Gujarat in the directly elected, larger body of the Union Government, the Lok Sabha. He won the 15th contest for the seat in its public vote, a seat created in 1967, with 69.3% of the votes cast.
Rajnath Singh: Having served as Home Minister for five years, it is likely that Rajnath Singh will now be given the charge of Defence Ministry. 
Nitin Gadkari: With a clean image and track record of development works in the Road Transport and Highways Ministry, it is expected that the government will ensure these ministries remain with Nitin Gadkari in Modi Sarkar 2.0.
Nirmala Sitharaman: Nirmala Sitharaman, second female defence minister of India, has been serving for the ministry since 2017. Now it is expected that Sitharaman will be made the Lok Sabha Speaker, presently held by Sumitra Mahajan. Sitharaman has served as the Minister of State for Finance and Corporate Affairs under the Ministry of Finance and the Minister for Commerce and Industry with independent charge. Prior to that, she has served as a national spokesperson for the BJP.
Piyush Goyal: Railway Minister Piyush Goyal, who briefly served as Finance Minister last year when Arun Jaitley was indisposed, is likely to be the next Finance Minister. Senior BJP leader Arun Jaitley today wrote a letter to Prime Minister Narendra Modi where he expressed his inability to take up a ministerial post citing "serious health challenges." This is unprecedented as Arun Jaitley has himself requested the Prime Minister and requested for a "reasonable time"to recover from his illness. 
Others who are expected to be ministers in Modi Sarkar 2.0: Mukhtar Abbas Naqvi, Jitender Singh, Prakash Javadekar, Mahesh Sharma, Rajyavardhan Singh Rathore, Kiren Rijiju, Smriti Irani, Ravi Shankar Prasad, Jayant Sinha, Arjun Meghwal, Gajendra Singh Shekhawat, Ramkripal Yadav, Ram Vilas Paswan, Lallan Singh, Ramchandra Singh, Anupriya Patel, Sukhbir Singh Badal.
ALSO READ | Post swearing-in, PM Modi has packed international schedule
ALSO READ | Narendra Modi Swearing-In Ceremony: This is what the guests will be served at the mega event