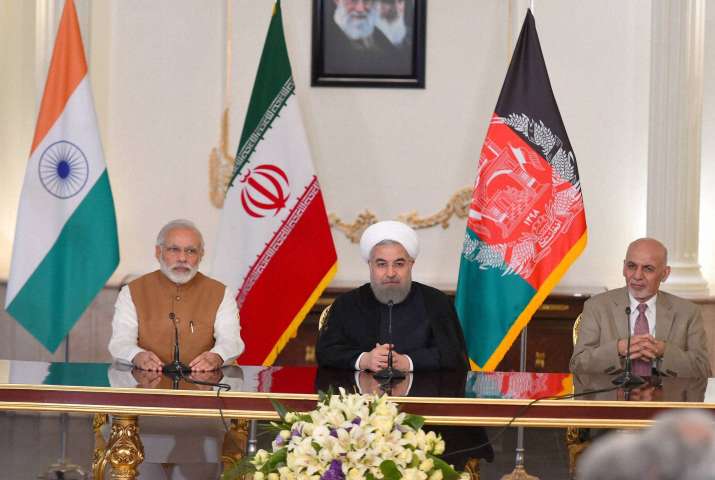 New Delhi: Prime Minister Narendra Modi's Iran visit is perhaps his most crucial foreign visit so far this year. It was after a gap of 15 years that an Indian Prime Minister toured Iran on a bilateral visit.  In 2012, the then Prime Minister Manmohan Singh had visited Iran but it was not a bilateral visit. Singh had gone there to attend the Non-Aligned Movement (NAM) summit.
The highlight of PM Modi's 2016 visit was the tripartite deal between India, Iran and Afghanistan on Chabahar port. India has pledged $500 million for developing this port which will be connected through rail and road links to Kabul, the capital of Afghanistan.
This trilateral agreement will have far reaching consequences as far as India's strategic interest in this region is concerned. Through this port, India will get direct access to Afghanistan and central Asia bypassing Pakistan. The sea-land route will prove to be a bonanza for boosting trade between India and other central Asian countries.
Since Afghanistan is a land locked country, Pakistan has always tried to restrict Indian access to that country. It has been refusing to allow India to send goods and other essential commodities to Afghanistan using land routes passing through Pakistan.
Pakistani leadership, especially the Army, have always been wary of growing trade and strategic relationship between India and Afghanistan. India and Afghanistan share historic relations from trade to culture and the people of the two countries want to take the bilateral relationship to the next level but Pakistan, taking advantage of land locked geography of Afghanistan, has always tried to create roadblocks.
Pakistani leaders have always cribbed over Afghanistan's psychological closeness to India. In a manifestation of Pakistan's uneasiness, one of their commentators recently remarked," Afghanistan is married to Pakistan but is in love with India." The disappointing tone of his remark clearly indicates the frustration of Pakistanis.  
The deal on Chabahar port will prove to be a game changer for India in this region and it has the potential of changing the strategic equations in this part of the world.
Chabahar is located in Sistan Balochistan region of Southern Iran and is just 72 Km west of the Gwadar port that is being developed by China in Pakistan's side of Balochistan. The trilateral agreement on Chabahar port, in one sense, is Indian answer to CPEC (China Pakistan Economic Corridor) presently being developed jointly by China and Pakistan.
Chabahar is the only Iranian port which has direct access to the ocean. The contract between India and China  is for 10 years and can be further extended by the two countries.  
China considers Gwadar port crucial to its strategic interest in Arabian sea and a part of its infamous 'String of Pearls' which is  a network of Chinese military and commercial facilities and relationships along its sea lines of communication extending from the Chinese mainland to Port Sudan.
The Chinese 'pearl strings' have some strategic maritime centres including Gwadar port. Strategic experts have pointed out that main objective of China behind setting up this 'String of Pearls' is to surround and choke India in case things lead to a military face off between the two countries.
Now with its presence at Chabahar, India will be in a better position to tackle the threat being posed by the Chinese 'String of Pearls' and that's why both China and Pakistan are worried over this development although they have desisted from making any official statement on this development.
Chinese leadership is more worried because they fear that with increasing maritime cooperation between India and the United States, the Americans will also get a foothold in the region that may produce a new challenge to their strategic interest in this region.
 
From Indian perspective, Chabahar port will help it in strengthening both energy and maritime security.
Chabahar port will make transportation of gas from Iran to India much more economical and easier. Not only that, this will provide an alternate sea-land route for the gas pipeline from Iran.
Present plan being pushed by Iran envisages the pipeline to pass through Pakistan before it enters India. However, India is not very keen on this arrangement because it's wary of Pakistan's commitment to provide security to the pipeline.
Similarly, the Chabahar port will further strengthen the maritime security of India. In addition to that, it will go a long way in making India's blue water ambitions a possibility. India has plans to make aircraft carriers that would operate in blue waters and Chabahar port may provide the logistical support to such carriers.  Chabahar port will also help India in expanding its footprints in Indian Ocean as well as Gulf of Oman.
Interestingly, the idea to develop Chabahar port was fist mooted during the NDA government of Atal Bihari Vajpayee in 2003 but it could not be finalised due to various constraints. With the exit of the Vajpayee government in 2004, the momentum for this deal was also lost.
 
The Congress government led by Dr Manmohan Singh could not move forward on this proposal because it feared the backlash of Americans who had imposed sanctions on Iran over its nuclear programme.  By the time US sanctions were removed, Congress lost power and Modi took over as the Prime Minister of India and within two years of his regime, Narendra Modi has made the deal a reality.
It is obvious that the tripartite transport and transit agreement between India, Iran and Afghanistan relating to Chabahar port will go a long way in boosting trade between India and other central Asian countries besides opening new avenues for strengthening India's energy security.
And last but not the least, from military point of view, the strategic location of Chabahar port gives India the opportunity to keep a tab on both China and Pakistan, the two countries with whom India has fought both covert and overt wars in the past.