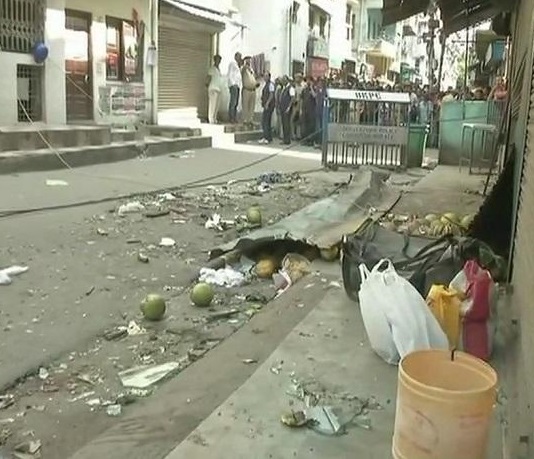 An 8-year-old boy was killed while nine others suffered injuries in a crude bomb explosion in Dumdum in West Bengal's North 24 Parganas district on Tuesday.
Eyewitnesses said the blast occurred at d 9 a.m today and ripped through adjacent shops, shattering window panes of nearby houses and damaging the pedestrian walk.
"A large explosion took place outside a shop in Nagerbazar area today morning. According to the probe so far, low intensity socket bombs were used in the blast," Barrackpore Police Commissioner Rajesh Kumar Singh said. 
"More explosives were used to magnify the effects of the low intensity crude bombs -- parts of which ricocheted off the concrete floor and hit a terrace causing the impact of the blast to be double.
"Bibhash Gosh, an eight-year-old kid, who was injured in the blast, has succumbed at the hospital," he said.
According to the officer, the bomb exploding on the solid surface created a tremor which caused the glass window panes of the adjacent multi-storied buildings to shatter.
"We are investigating the matter. The bomb squad of Criminal Investigation Department (CID) has visited the spot. Several items including a bag has been seized from the spot and sent for forensic tests. We are still finding out the kind of explosives used in the bomb," he added.
According to police, at least nine others, including a woman sustained injuries and have been admitted to the state-run SSKM Hospital.
Trinamool Congress leader and Chairman of South Dumdum municipality Panchu Gopal Roy said the blast was targeted at him.
"I think they tried to target me. Today is October 2, the birthday of Mahatma Gandhi. We all know which group was involved in Gandhiji's killing. I will not be surprised if that same group was involved in this blast," he said.
WATCH: 8-year-old boy killed in blast in Dumdum
(With IANS inputs)