Follow us on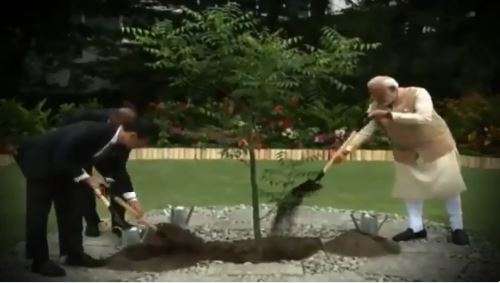 On the World Environment Day (WED) today, President Ram Nath Kovind and Prime Minister Narendra Modi pledged for keeping India cleaner and greener.
"On World Environment Day, we reaffirm our commitment to a cleaner and sustainable planet. India is hosting the global celebrations this year. And we are obligated to bequeathing a greener and eco-friendly legacy to our children," President Kovind tweeted.
"Together, let us ensure that our future generations live in a clean and green planet, in harmony with nature," tweeted PM Modi. 
Highlights:
(14:00 pm) MP Chief Minister Shivraj Singh Chouhan launched an e-car on the occasion of WED
(09:50 am) Plastic is a necessity for us, but it shouldn't become a curse. We have to abolish the use of single-use plastic in the world. We have a responsibility towards environment and mother nature: Dr Mahesh Sharma, Union Minister of State for Environment
(08:55 am) This has been a concern for me & many other people including United Nations. It's just that now there is a concrete action in the direction. Plastic is a classic case of, whatever is given to us, we know how to make a problem out of it: Sadhguru Jaggi Vasudev
(08:50 am) Our aim is to make India & world's home plastic-free to avoid enormous pollution to our environment & to our own health. This must stop & there's no one better to inspire to this than Mahatma Gandhi & Sadhguru: Erik Solheim, UN Environment Executive Director
WED is the United Nation's principal initiative for encouraging awareness and action for the protection of the environment.
First held in 1974, it has been a flagship campaign for raising awareness on emerging environmental issues. It encompasses issues like marine pollution, human overpopulation, global warming, sustainable consumption and wildlife crime. There is participation from over 143 countries.