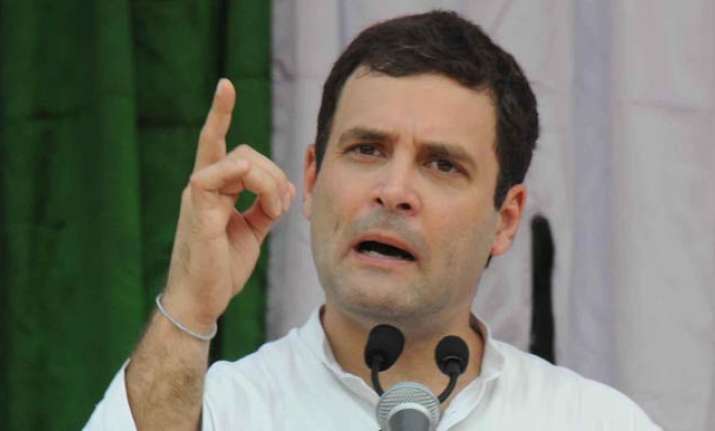 After China blocked India's bid at UN to designate Masood Azhar as a global terrorist, Congress President Rahul Gandhi took the opportunity to train the guns at Prime Minister Narendra Modi and said that he was scared of Chinese Premier Xi Jinping. 
Gandhi's attack comes after China put a "technical hold" on a proposal at UN Security Council to ban Jaish-e-Mohammed chief Masood Azhar, blocking India's bid for the fourth time. 
Taking to Twitter, Gandhi tweeted: "Weak Modi is scared of Xi. Not a word comes out of his mouth when China acts against India." He also mentioned his take on 'NoMo's China diplomacy'. 
The proposal was the fourth such bid at the UN in the last 10 years to list Azhar as a global terrorist. 
ALSO READ | If Imran Khan is so generous then he should hand over JeM chief Masood Azhar to India: Sushma Swaraj
China blocked India's bid even as JEM claimed responsibility of a suicide bombing in Pulwama village of Jammu and Kashmir which resulted in the death of 44 CRPF personel. 
The US, The UK and France moved a proposal in the UNSC on Feburary 27 to designate Masood Azhar under the 1267 Al Qaida Sanctions Committee which was founded in 1999 to lead the war on terrorism. However, China went on to play spoilsport for the fourth time, having blocked it in 2009, 2016, 2017. 
Congress has long been accusing the BJP of releasing Masood Azhar in 1999 after the hijacking of IC-814. BJP had release Masood Azhar along with 2 other terrorists to bring back the 170 passengers on board IC-814. 
Congress has also on multiple occasions accused the current NSA Ajit Doval of 'escorting' Masood Azhar to Kandahar. 
ALSO READ | Responsible UNSC members may be forced to pursue other actions: UNSC diplomat on Masood Azhar