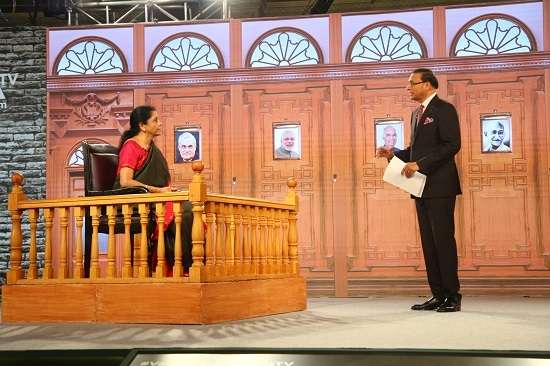 Defence Minister Nirmala Sitharaman today said that "India will not wait for another Pulwama-type terror attack". 
"The air strike on terror camps at Balakot was pre-emptive, but that does not guarantee that there will not be any other terror attack", she added. 
Sitharaman was asked in Rajat Sharma's show 'Aap Ki Adalat' at India TV conclave what measures would be taken against terror masterminds like Lashkar chief Hafiz Saeed and Jaish chief Masood Azhar. 
The Defence Minister replied: "We will not wait for another Pulwama-type attack. We carried out the pre-emptive strike on Balakot after we got specific intel information about fidayeen and trainers gathering at a camp. But we can not guarantee that terror attacks will not take place in future. There was already intel information that the fidayeen were being trained to carry out suicide attacks inside India. We are taking measures at every step. This much I can share right now."
On Congress leader Kapil Sibal seeking evidence of bodies of terrorists killed in Balakot, the Defence Minister said: "Our men had gone there to fight a war, not to offer 'pind' (post-funeral prayers) to terrorists. Our soldiers do not take selfies."
On Congress leader Digvijay Singh's claim that he had pictures to prove that the air strike was not successful, Sitharaman said: "Did he visit Balakot? Pakistan will certainly give him permission."
Asked why there are different claims about the number of terrorists killed in Balakot, the Defence Minister said: "I cannot say specifically. There were public announcements in Pakistan about training being given to fidayeen at the camp. Names of trainers had been written on the boards. We cannot say how many terrorists were there on the night of air strike. The intel information available to us has the names of trainers. The government cannot give the number."
Asked whether Masood Azhar was supposed to come to Balakot two days later, and whether there was a proposal at one time to defer the air strike till his arrival, Sitharaman cryptically replied: "There are too many factors while deciding strategy".
On Congress President Rahul Gandhi alleging at a rally that the Prime Minister was busy at a photoshoot at Jim Corbett tiger reserve on the day the Pulwama terror attack took place, Sitharaman said: "The Prime Minister's Office has already replied to that. I want to ask Rahul Gandhi whether it is not a fact that he was partying on the night of 26 November 2008, when the Mumbai terror attacks took place. Let Rahul Gandhi reply to my charge."
Asked whether the current national mood after air strikes will help the BJP in LS elections, Sitharaman replied: "I cannot say whether BJP will fain from it, but now that news about PM Modi's welfare programmes are reaching the common people, I can definitely say that the Congress will have to wait for another five years to come to power."
The Defence Minister also demanded that the Congress President must share with the nation what discussions he and his party leaders had at a lunch with envoys of G-20 countries in Delhi recently. 
On China blocking a bid to declare Masood Azhar as global terrorist at the UN Security Council, Sitharaman said: "China has probably a differential approach towards terrorism, whereas other world powers are united against terrorism. China should join hands with all other nations on this issue. After the massacre in New Zealand mosques, China must understand that terrorism takes all kinds of forms in different countries. China must recognize that terrorism is a global threat."
FULL VIDEO: