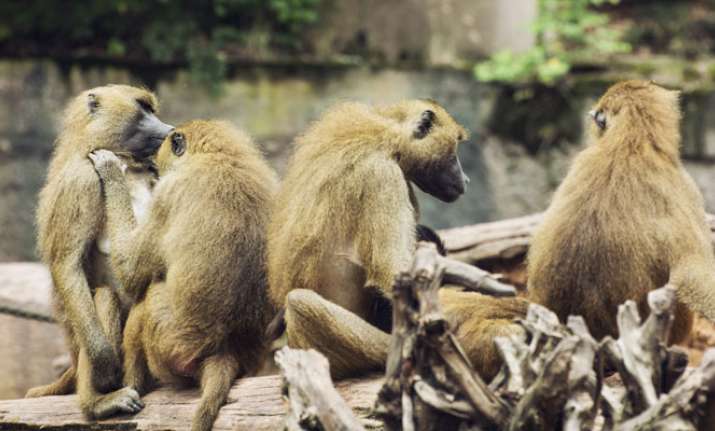 "We will be out of Lutyens' Delhi" if emergency measures are not taken to check the growing population of monkeys, the Delhi High Court said today.
 
Observing that the problem was not restricted to Delhi alone but a pan-India issue, a bench of Acting Chief Justice Gita Mittal and Justice C Hari Shankar said the matter of contraception of the simians "cannot brook a delay".  
The observations came after the Environment Ministry submitted that release of funds for research on an immune-contraception vaccine was awaiting approval of the Finance Ministry and after that, it will take another seven years of research and trials to develop it.
 
The bench shot back, saying "small African nations have the vaccine and we are yet to develop it? Why are you not applying your mind to the immediate need? "Complaints have been received that Asola sanctuary (in south Delhi) is hopelessly overpopulated (by monkeys) and they have spread to surrounding areas. By the time you develop a vaccine, we will be out of Lutyens Delhi," the bench said.  
It said the "matter of contraception of the animals cannot brook a delay of seven years and emergency measures are required to be undertaken". 
The bench also said that if the ministry was saying it will take seven years to develop a vaccine, then "it effectively means you are saying you cannot do anything".  
The ministry's submission came in response to the court's earlier query on how long it would take to fund its pilot project to manage the population of monkeys, wild pigs, nilgais and elephants—the four focal species in conflict with humans. 
The court had also called for expediting the process of developing such a vaccine for 'immuno-contraception', which would use an animal's immune response to prevent pregnancy. 
It asked Additional Solicitor General Sanjay Jain to personally look into the matter, ensure funds for research and take instructions from the Centre on the feasibility of acquiring a vaccine from abroad on an "emergency basis".  
The bench asked the Delhi government also to indicate its stand on importing the vaccine, being used by some African nations as well, to address the monkey menace in Delhi and listed the matter for further hearing on February 2.  
The court was hearing a PIL, filed through advocate Meera Bhatia, seeking directions to the authorities to take steps to deal with the menace of monkeys and dogs here.  
In the PIL, an application was also moved by the residents of colonies and farmhouses surrounding the Asola sanctuary seeking directions to the authorities to stop relocating the monkeys to the area.