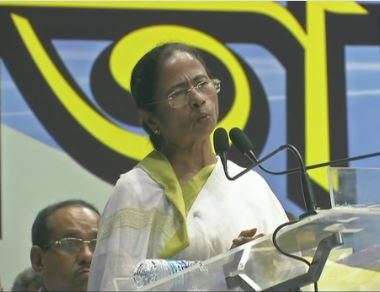 West Bengal Chief Minister Mamata Banerjee on Thursday came out all guns blazing against the Bharatiya Janata Party (BJP) and said her party - the Trinamool Congress (TMC) - is not a militant organisation like the saffron party. She alleged that BJP is creating fights not only among Christians, Muslims but also among Hindus.
Mamata's outburst was in response to West Bengal BJP chief Dilip Ghosh's alleged threat to Trinamool workers. Ghosh had reportedly threatened 'encounters' against TMC leaders and workers during a protest in Jalpaiguri earlier this week.
"Every bullet will be made to count. Leaders who indulge in hooliganism in Bengal will soon either be in jail or straight away there will be an encounter," Ghosh had said. The Jalpaiguri Police has booked Ghosh for his controversial statement.
Mamata Banerjee has been quite vocal in criticising the BJP. It may be recalled that she also came out in support of Delhi CM Arvind Kejriwal during his sit-in at L-G's office in the national capital. Kejriwal also received the support of other three CMs.
Union Minister Vijay Goel had earlier described as "shocking" the support by four Chief Ministers to their Delhi counterpart Arvind Kejriwal, alleging that he has "no faith" in the Constitution.
"It is shocking that you (Andhra Pradesh Chief Minister N. Chandra Babu Naidu) along with three other Chief Ministers (West Bengal's Mamata Banerjee, Kerala's Pinarayi Vijayan and Karnataka's H.D. Kumaraswamy) have come out in support of the Kejriwal government and sought Prime Minister Narendra Modi's intervention to resolve the deadlock with the bureaucracy in the capital," Goel had said.