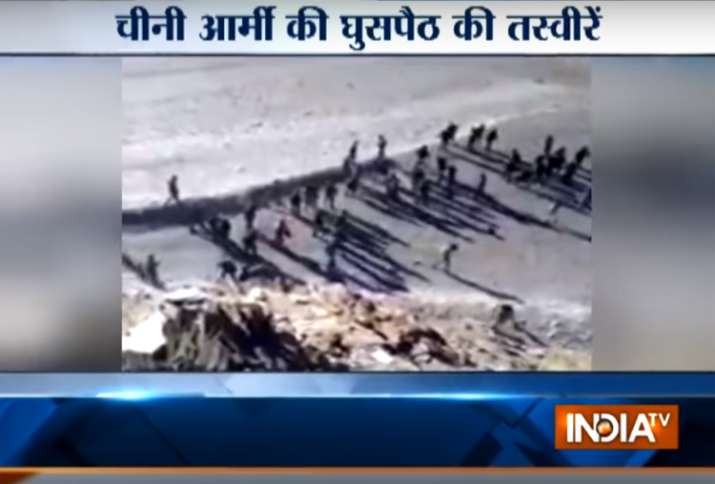 Nearly a week after a scuffle broke out between Indian and Chinese troops in eastern Ladakh, a video, purportedly shot on a mobile phone and put out by a retired military officer yesterday, showed how the soldiers from two countries kicked, punched and shoved each other. Official Army sources, however, did not confirm the authenticity of the video.
The incident took place on Independence Day, August 15,  when China's PLA (People's Liberation Army) soldiers tried to enter the Indian side near the Pangong lake in Ladakh but were stopped by Indian security forces. After Chinese troopers found their path blocked by Indian soldiers who formed a human chain, they began hurling stones, prompting a swift retaliation by Indian border guards. 
Personnel from both sides received minor injuries in the incident. The video shows stone-pelting, shoving, kicking and injuries sustained by soldiers on both sides. 
The area near the Pangong lake has been a bone of contention between India and China as both claim it to be a part of their territory.
Also Read: Ladakh faceoff: MEA confirms 'incident' at Pangong Lake on August 15
When the Indian side staked claim to the area during negotiations in late 1990s, the Chinese army constructed a metal-top road and insisted it was part of Aksai Chin, which is under the latter's control, officials said.
China had constructed a road up to Finger Four which falls under Siri Jap area and is five km deep into the LAC. 
The incident came amid the ongoing face-off between Indian and Chinese troops in the Doklam plateau across the border of Sikkim. China has repeatedly asked India to unilaterally withdraw from the Doklam area, or else face the prospect of an escalation. Trouble began in June when India sent troops to stop China building a road in the Doklam area, which is remote, uninhabited territory claimed by both China and India's ally Bhutan.