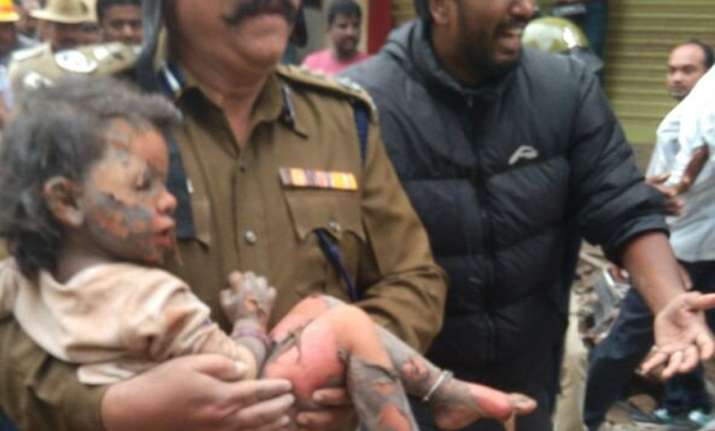 A girl child rescued from the collapsed building in Bengaluru's Ejipura on Monday will be adopted by the Karnataka government which will take care of all her future expenses. The parents of the girl died after the  two-storeyed building collapsed due to a suspected LPG cylinder blast. The child miraculously survived the accident and was found in the rubble by the rescue team.
Karnataka Development Minister K J George said the state government will adopt the girl and will take care of all her expenses.
#WATCH: Girl child rescued from Ejipura building collapse site in Bengaluru. Her parents died in the incident,govt has decided to adopt her. pic.twitter.com/jZcI1VHAf5

— ANI (@ANI) October 16, 2017
At least six persons were killed in the incident, the police said. 
The government has announced a compensation of Rs 5 lakh each to the families of deceased. 
"We will give a compensation of Rs 5 lakh each to next of kin of the deceased and Rs 50,000 to injured," said George.
Also Read: 6 killed in building collapse in Bengaluru 
Eye-witnesses said the blast took place at around 7 a.m. They said a noise of the blast was heard and the 20-year-old building was reduced to rubble. 
However, Karnataka Home Minister Ramalinga Reddy said that cylinders on both ground and first floor had no gas in them so it is unlikely that the buildings collapsed due to blast.
Government will adopt the girl (whose parents died) who was rescued and will take care of all her expenses: Bengaluru Development Minister pic.twitter.com/CkV6qd9Ue7

— ANI (@ANI) October 16, 2017
Personnel of the Fire brigade and National Disaster Response Force, who rushed to the spot, recovered the bodies including that of two women. 
Two of the deceased have been identified as Kalavathi (68) and Ravichandran (30). 
Two children, who were rescued from the debris were out of danger, police said. 
​(With PTI inputs)