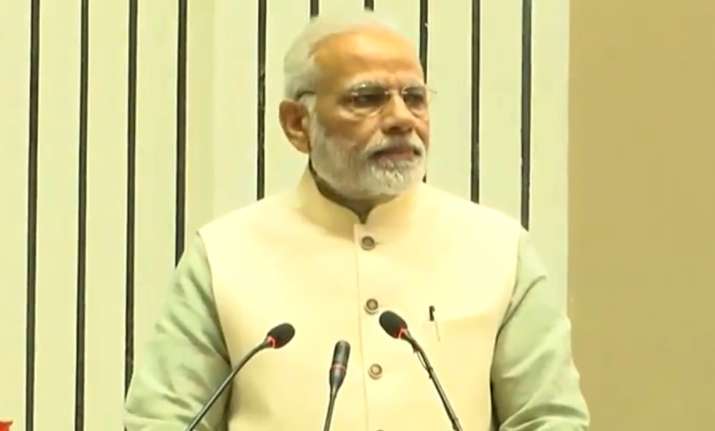 Prime Minister Narendra Modi on Thursday took part in an Islamic conference in New Delhi along with Jordan King Abdullah II, who is on a state visit to India currently. 
The conference, themed 'Islamic Heritage: Promoting Understanding and Moderation', has brought together scholars of the Islamic studies from across the world. 
PM Modi and Jordanian King will hold bilateral talks on India-Jordan relations after the conference. 
Here are Highlights of PM Modi's speech at Islamic conference;
Watch video: PM Modi speech
11:28 am: Core of a religion cannot be inhumane. Every religion, every sect, every tradition promotes human values. Thus, it is important that today our youth should connect with humane Islam while being able to utilise modern science and technology at the time: PM
11:25 am: In India, we have one mission - to take along everyone on the path to development: PM
11:21 am: Our heritage and values, the message of our religions and our morals are the basis on which we challenge violent and terror elements. Those who commit crimes against humanity do not understand that their actions also hurt people of that religion, which they claim to be protecting: PM
11:19 am: It is the power which allows ever Indian to respect our glorious past, believe in our present and have faith in our future: PM
11:17 am: In world's largest republic, India, democracy is not just a political system, but the basis of equality, diversity and co-existence. Indian democracy is a celebration of our age-old plurality: PM 
11:16 am: We Indians are proud of our unique diversity. Diversity of our heritage, and heritage of our diversity: PM
11:15 am: India has hosted religions from across the world. In India's atmosphere, they have thrived. Be it Lord Budhha 2500 years ago or Mahatma Gandhi a century ago - India has always spread the message of peace and love to the world: PM
11:10 am: Jordan and India are etched in the religious text. Jordan is located on a holy land, from where the message of God is spreading through His messengers across the globe: PM