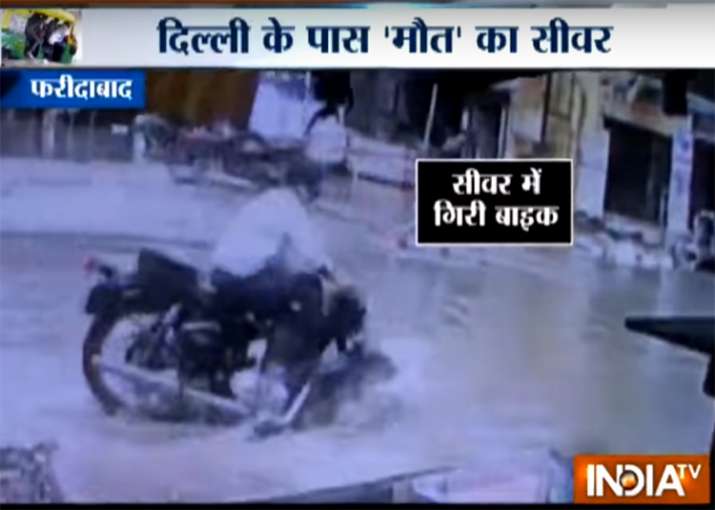 Every monsoon, the apathy and irresponsible behaviour of civic bodies come to fore when the roads and the streets overflow with rainwater and open manholes cause numerous accidents. In one such incident in Faridabad, only a few kilometres away from the national capital, caused havoc as at least 10 people fell victim to an open manhole submerged in water following heavy rains in the capital. A CCTV footage, accessed by India TV, shows how vehicle after vehicle fell into the 2-feet wide trap. It was only a matter of fortune that no person fell into the 10-feet deep sewer. 
As heavy rain poured in the national capital region on July 11, a road in Khwaja Bazar area near Delhi-Faridabad border was in knee-deep water. As vehicles were crossing the road, they fell and got trapped in the open manhole. 
The CCTV shows that at least 10 people were caught in the dangerous manhole but escaped narrowly. Among the victims of the manhole was a family on a bike. A woman who was riding pillion was carrying an infant with her and barely held on to the baby when the motorcycle hit the open manhole, immediately stopping the vehicle with a jerk. 
The manhole has finally been covered by the Faridabad civic body but the incident shows how authorities' reluctance to fulfil their responsibility endangered the lives of dozens of people.