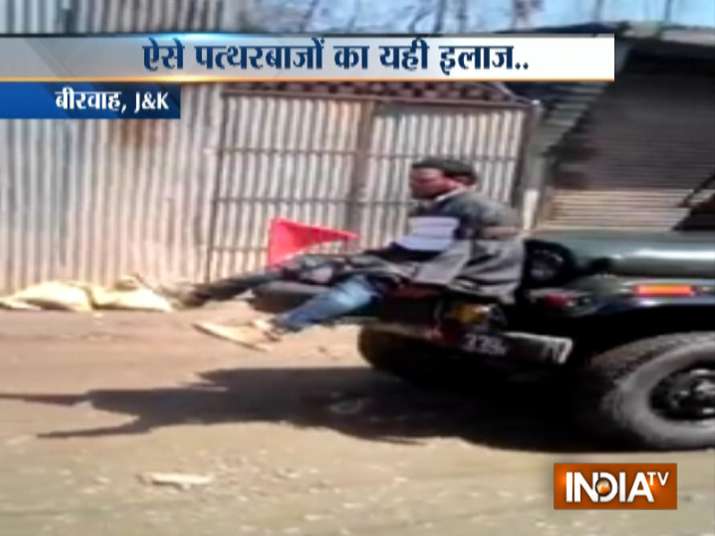 Days after a video of protestors attacking CRPF jawans in Jammu and Kashmir caused national outrage, a new clip has emerged showing a Kashmiri youth being tied to a jeep as a human shield against stone pelters. 
The video has now gone viral on internet and was even shared by former Jammu & Kashmir chief minister Omar Abdullah.
The video was reportedly shot in Beerwah area of Budgam district where miscreants disrupted polling during Sunday's bypoll to Srinagar Lok Sabha constituency by pelting stones. It is being widely shared on social networks in Kashmir and drawing condemnation.
"This young man was TIED to the front of an army jeep to make sure no stones were thrown at the jeep? This is just so shocking!" Omar wrote on Twitter.
Omar, who represents Beerwah seat in the state assembly, said that while he understands the outrage generated across the country by a video in which CRPF personnel was heckled by protestors, he is outraged that the video of youth tied to jeep is not generating same anger.
"I understand the outrage the CRPF video generated. I'm also outraged that the video of the youth on the jeep won't generate the same anger.
"Let's see channels going ballistic and having discussions with outraged panelists now. Probably not since 'Kashmir is ours' hell with Kashmiris," the former chief minister said.
Omar demanded an inquiry into the incident. 
"A warning can be heard saying stone pelters will meet this fate. This requires an urgent inquiry and follow up NOW!" he added.
Army and defence officials were not immediately available for comment.