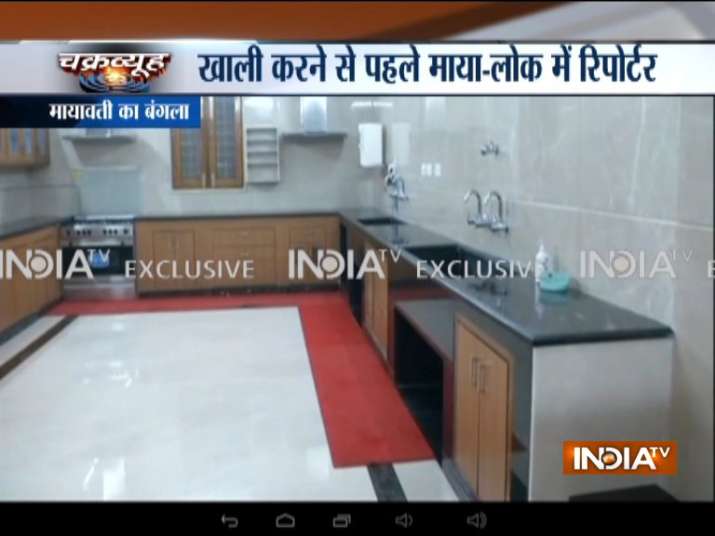 BSP supremo Mayawati on Saturday vacated her second government bungalow, located at 13-A Mall Avenue, in Lucknow.
However, the BSP president made it clear that she was vacating only that portion of the government bungalow that she was occupying, insisting that the property remained a memorial to party founder Kanshi Ram.
Interestingly, her insistence on calling the bungalow a memorial makes it unclear whether it will actually be handed over to the estates department.
Mayawati's announcement regarding vacating the second bungalow came just ahead of the deadline set by the Uttar Pradesh estates department, following a Supreme Court order that former UP chief ministers are not entitled to official accommodation.
"I am today vacating the portion of 13-A Mall Avenue occupied by me till now," she told media persons.
"From now on, the said bungalow in Lucknow will be a memorial named after Kanshi Ram," she added.
It was for the first time that the BSP supremo invited media persons inside the bungalow for reporting.
India TV has the exclusive visuals of the bungalow including Mayawati's bedroom, kitchen, washroom, dining hall, dining table, cupboards, refrigerator, sofa etc.
This is the same bungalow sitting in which Mayawati devised all political strategies of the BSP. Metaphors like "Maya ka Mahal", "Mayalok" etc. were also used for this bungalow in the past
However, Mayawati had never allowed media persons to bring the cameras inside the bungalow.
Watch India TV Exclusive Video: Inside visuals of Mayawati's second govt bungalow
Mayawati had on Friday moved out of another bungalow at 6, Lal Bahadur Shastri Marg, which she claimed had been allotted to her in the capacity of a former chief minister.