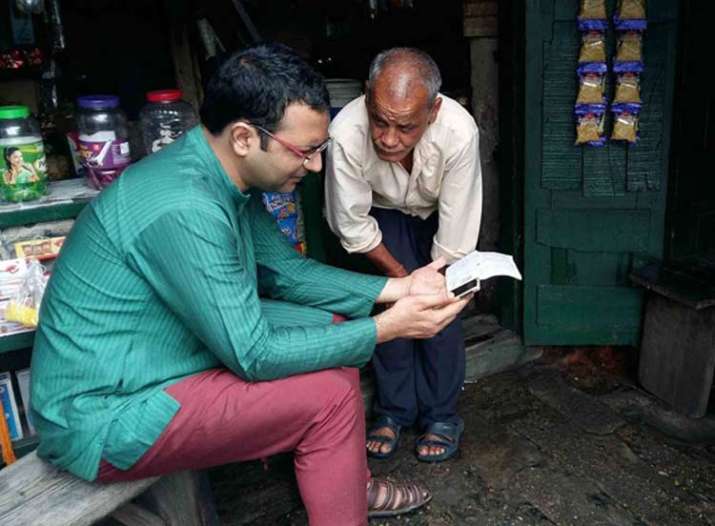 Months before Prime Minister Narendra Modi announced the decision to demonetise Rs 500 and Rs 1000 notes, and the government urged citizens to adopt cashless modes of payment, a financial technology professional tried to live his life cashless – for 200 days – and he succeeded. 
Abhishant Pant, Head Prepaid and New Channels, Visa India and South Asia started his 200 days of "living without cash" journey in Mumbai on March 13 and when Modi announced the demonetisation move, he had only Rs 546 in his 'piggy bank'. 
"I was giving a lecture on payments at an IIT conference in February when someone asked whether it is possible to live without cash in this era of digital payments. I felt it was possible and decided to execute the idea myself," Pant told Rediff.com.
Soon after, he travelled to Singapore, where apart from a minor inconvenience, he did not face any problem in making digital payments for the five days he stayed there. 
It was before his 200 days' journey which he started on March 13. He vowed to never use cash and only opt for digital payments. 
Pant says that there are 18 kinds of services that any middle class Indian needs. He told his house maid, newspaper vendor, dhobi etc that he would not pay them in cash and their payments would be transferred to their bank accounts.
They agreed reluctantly. 
But it was Mumbai and they were his daily service providers and he realised the real challenge would begin in the remote corners of the country. 
In Uttarakhand's Almora, Abhishant paid a man by transferring money to his son's bank account. 
In Delhi, Abhishant paid a bhelpuri vendor by recharging his mobile with Rs 50 talktime.
Back in Mumbai, Abhishant found a way to pay to food joints which did not accept digital payments by ordering food from an app. 
Abhishant supports the government's Pradhan Mantri Jan Dhan Yojana which opened a record number of bank accounts. 
He lists four things every Indian must have: "First is to have a bank account; second, a pension plan for long-term financial security; third, life insurance and general insurance; and fourth, access to credit."