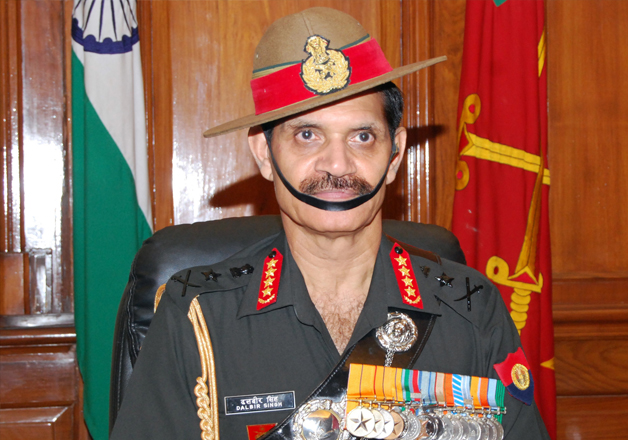 Indian Army Chief General Dalbir Singh Suhag has kicked up a storm after he filed an affidavit in Supreme Court in which he said that Union Minister and former Army Chief General VK Singh (Rtd.) had imposed an 'illegal' ban under 'false, baseless and imaginary' allegations against him while serving as Chief of Army Staff in 2012.
General Suhag on Wednesday submitted an affidavit in the Supreme Court in personal capacity, referring to VK Singh's Discipline and Vigilance (DV) ban imposed on him, reported Indian Express.
The affidavit was filed in response to a petition moved by Lt General (Rtd.) Ravi Dastane who alleged favouritism in General Suhag's appointment as Army Chief.
This is first time in the history of Indian armed forces when a seating Army Chief has levelled allegation against a decorated Army Chief who also happens to a minster in the Union Cabinet.
General Suhag, who was commissioned into the 4th battalion of the 5 Gorkha Rifles in 1974, mentioned that the 'sole motive behind VK Singh's show cause notice was to stall his promotion'.
"In 2012 I was sought to be victimised by the then COAS General VK Singh with the sole purpose of denying me promotion to the appointment of Army Commander," the report quoted the affidavit.
"False, baseless and imaginary allegations of lapses were levelled against me in the show cause notice of May 19, 2012 and consequent imposition of an illegal discipline and vigilance (DV) ban," it added.
VK Singh, who is a now MoS for Development of North Eastern Region, External Affairs, had placed General Suhag under a DV ban in 2012 for a botched up military intelligence operation by a unit under him.
But General Bikram Singh (Rtd.), who succeeded VK Singh, lifted the ban and made Suhag the GOC-in-C, Eastern Command, with effect from June 15, 2012.
General Suhag, a third general soldier, took over as the 26th Army Chief in July 2014, succeeding Gen Bikram Singh. He hails from a Jat family in Bishan village, Harayana. He served as the Vice Chief of the Army Staff (VCOAS) before taking charge as Chief of the Army Staff.