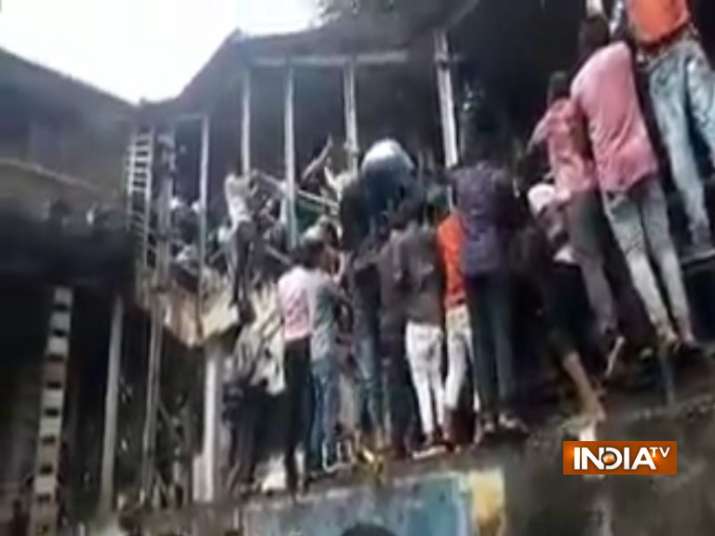 At least 22 people were killed in a stampede that took place on a foot overbridge (FOB) linking Elphinstone Road and Parel suburban railway stations in Mumbai this morning. Several others were injured in this incident.
The stampede took place amid rain in the city at around 10:40am when the FOB was heavily crowded. 
According to police, the stampede probably took place as a result of the panic that was created due to a short-circuit with a loud sound near the FOB.
One of the commuters, who was an eyewitness of the accident, said that heavy rush on the FOB caused the stampede. He blamed the administration for not widening the FOB despite exponential increase in the footfall.
The victims were rushed to the KEM Hospital in Parel, according to the Brihanmumbai Municipal Corporation's (BMC) disaster control room.
At least 24 others were injured, six of them critically, and casualty figures could rise, the BrihanMumbai Municipal Corporation (BMC) Disaster Control added.
Before the rescue teams arrived, cab drivers and others helped shift the injured in taxis and on two-wheelers.
Officials of the railway, police and fire brigade rushed to the site to carry out rescue operations.
The tragedy occurred shortly before Railway Minister Piyush Goyal reached Mumbai on Friday to launch scores of new services for the Western Railway and Central Railway.
Mumbai Mayor Vishwanath Mahadeshwar, who visited the scene, said it was the responsibility of the Western Railway authorities to ensure commuters' safety.
The festival-eve calamity sparked off angry reactions on social media, with many questioning lapses vis-a-vis safety and security of commuters even as projects like Bullet Trains are announced with fanfare.