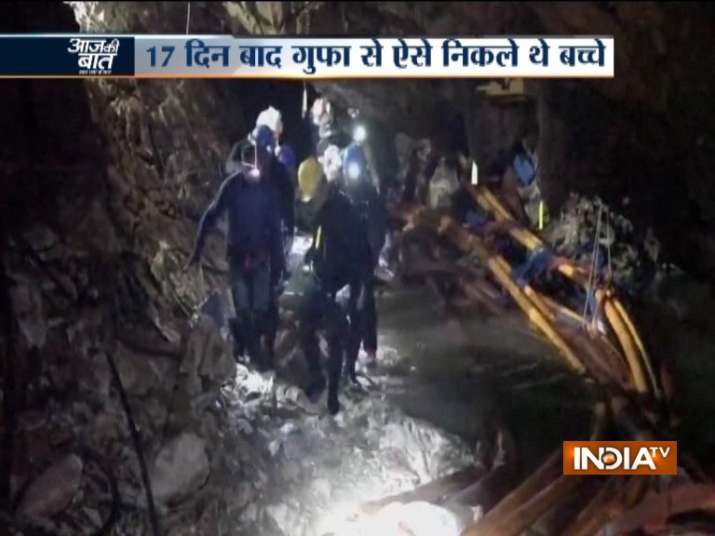 A Video has emerged that shows how the brave Thai Navy SEALs successfully recued all 12 boys and their football coach from the treacherous Tham Luang cave in Thailand on Tuesday.
The video shows that the pathway for entering the cave was completely submerged in water. The SEALs had to find the way inside the water. The cave's passageways were so narrow that it was difficult for even a single person to come out.
However, the SEALs succeeded in safely bringing out these boys from the cave.
To make sure that the right direction for coming out of the cave was not lost, the rescue team had put in place a rope through which they were taking out the boys.
Since the kids were inside the dark cave for 17 days, utmost precaution was taken while bringing them out.
According to an officer, the boys were given some medicines to ensure they didn't get frightened during the operation. 
Their bodies were completely covered so that there was no adverse effect due to sudden change in temperature.
In the video, the Navy SEALs are seen bringing out these boys, covered with emergency thermal blanket, on stretchers. 
The boys are seen waving their hands after coming out of the cave.
The boys, aged from 11 to 16, and their coach, ventured into the Tham Luang cave in mountainous northern Thailand on June 23 after football practice and got trapped when heavy rains caused flooding forcing to take shelter on a muddy ledge. 
Watch: How Thai Navy SEALs rescued 12 boys, soccer coach from treacherous cave