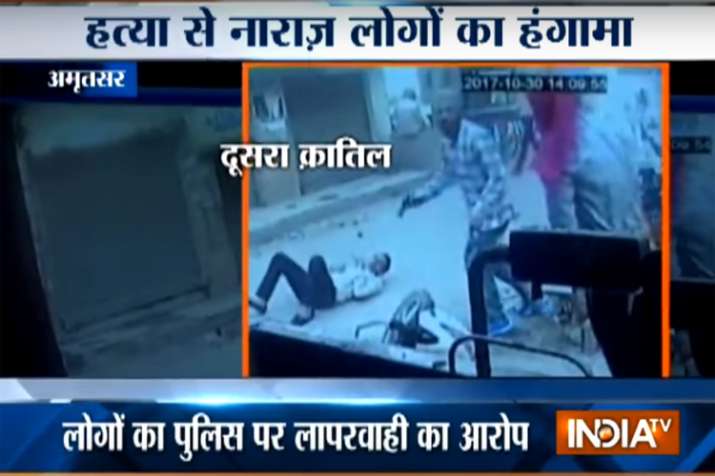 A leader of a Hindu outfit was shot dead in full public view by four unidentified men in the Bharat Nagar locality on the Amritsar-Batala road in Amritsar on Monday. 
Hindu Sangharsh Sena district chief Vipin Kumar Sharma (45) was standing with a friend outside a shop in the bustling Bharat Nagar locality when around a dozen bullets were pumped into him, PTI reported. 
Four men on two motorcycles came while Sharma was talking to two other persons. Two of the four miscreants got off their motorcycles and pumped at least eight bullets into Sharma's body and fled the spot.
Face of one of the two attackers who were caught on the CCTV camera was covered, and the police is looking it identify the other shooter. The face of only one man was captured on the camera as he was not masked.
Sharma was rushed to the Escort Hospital where he was declared brought dead.
Demanding immediate arrests of the accused, various Hindu organisations carried out protests in the city on Tuesday.
The killing comes within a fortnight of the gunning down of RSS leader Ravinder Gosain in Ludhiana on October 17.
"He was brought to the emergency wing of the hospital where a team of doctors declared him brought dead. There were around 15 injury marks on the deceased's body, including 8 bullet marks," the hospital's director, Dr H P Singh, said.
"It is a targeted killing and we are verifying all the aspects particularly a past threat perception if any," Police Commissioner, Amritsar, S S Srivastava said.
Few of the deceased's relatives and friends claimed that he had recently applied for police protection, since he was active in raising his voice against the 'Ghalughara week' (Operation Blue Star anniversary), the police commissioner said.
The deceased was a cable operator by profession and was running his business for the last many years in the city.