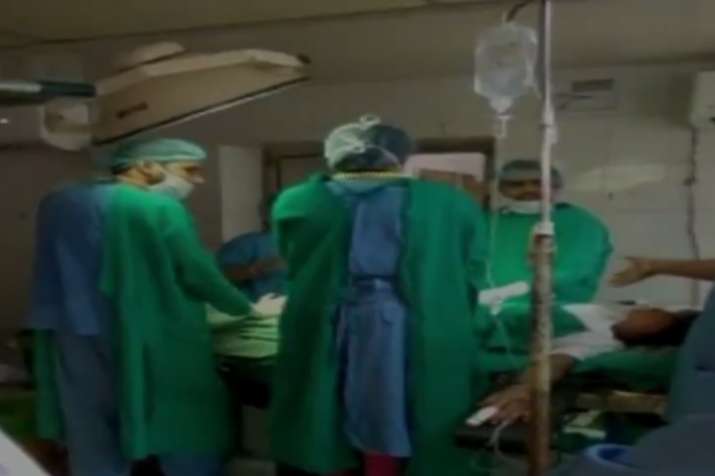 A shocking video, shedding light on the increasing incidents of medical negligence, shows two doctors arguing loudly, calling out names and threatening each other while a pregnant lady is lying on the operation table for an emergency surgery.
The video, which went viral on Tuesday, was filmed at the Umaid Hospital in Jodhpur, which is considered to be the best in the region.
The fight between the two doctors went on even as the woman's newborn baby was dying in front of them. 
#WATCH Rajasthan: Verbal spat between two doctors in OT during the surgery of a pregnant woman in Jodhpur's Umaid Hospital (29.8.17) pic.twitter.com/eZfHHISQGB

— ANI (@ANI) August 30, 2017
When of the doctors – the obstetrician – finally delivered the baby, it didn't survive. 
The argument erupted between the doctors – gynaecologist Ashok Nainwal and anaesthetic ML Tak – during an emergency caesarean surgery scheduled because of the feeble heartbeat of the foetus. 
While the two were busy in squabbling, the woman patient was lying on the operation table with stomach cut open. 
"You stay within your aukat (limits), you will pay for this," Dr Neniwal is heard shouting in the video.
The argument quickly turned into shouting and name-calling, with the doctors not caring about the patient lying on table in an emergency situation. A nurse and another doctor are seen trying to stop them and remind them that a surgery was on.
Following the incident grabbing the headlines, both the doctors were removed. 
"Both doctors have been removed immediately and disciplinary action will be taken against them," said A L Bhat, Principal, Umaid Hospital. 
Meanwhile, the Rajasthan High Court took cognisance of the incident of the verbal spat and has asked the hospital to submit a report by 2 pm today.