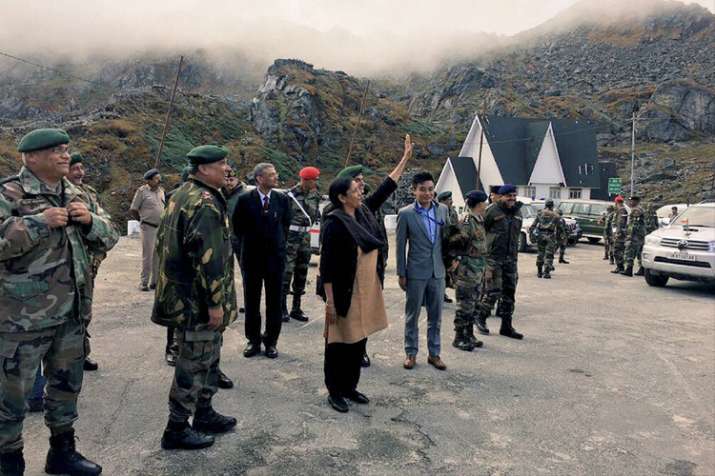 Defence Minister Nirmala Sitharaman, on her visit to the Nathu La area on the Sino-Indian border on Saturday, not only interacted with the Army and Indo-Tibetan Border Police officials, but also with the Chinese soldiers posted across the border. 
A video tweeted from the official Twitter handle of Defence Minister's office shows Sitharaman interacting with a Chinese officer who introduces her to his colleagues.
Sitharaman greets the officers with folded hands and a 'namaste'.
Snippet of Smt @nsitharaman interacting with Chinese soldiers at the border at Nathu-la in Sikkim yesterday. Namaste! pic.twitter.com/jmNCNFaGep

— Raksha Mantri (@DefenceMinIndia) October 8, 2017
 
With the Chinese soldiers looking a little confused, she asked them, "Do you know what 'namaste' is?"
When Indian soldiers present there try to prompt the answer, she promptly stops them, telling them to let the Chinese figure out the meaning on their own. 
After a couple of failed attempts, the Chinese officer almost hits it right, saying: Nice to meet you. 
Sitharaman asks him what he would say to her in Chinese and he responds, "Ni hao."
The friendly conversation comes days after the standoff between the Indian and Chinese troops at Doklam, which lasted for nearly 70 days before the two sides entered into a 'disengagement agreement'. 
Notably, recent media reports have suggested that Chinese soldiers remain in the vicinity of the Doklam standoff site, in increased numbers.