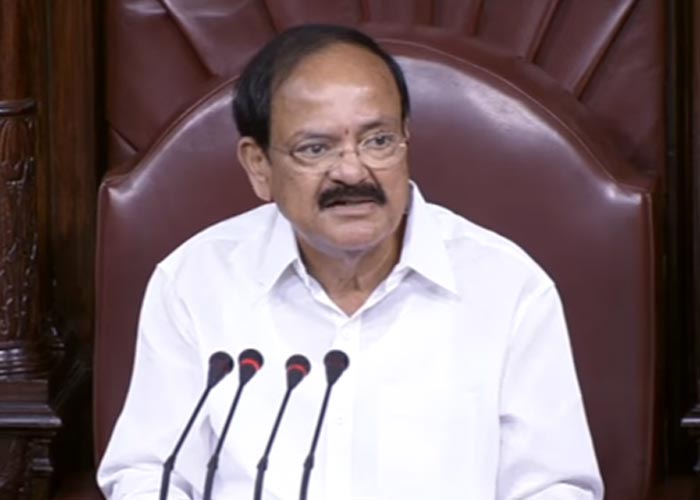 Rajya Sabha Chairman M. Venkaiah Naidu on Wednesday expressed anguish over the ongoing protests by the Telugu Desam Party, AIADMK, Congress and other opposition parties on different issues and dubbed these "murder of democracy".
Naidu's remarks came when the house met for the day and and the opposition parties refused to heed his repeated requests to allow the house to function so that some important bills could be passed.
"You are testing the patience of the people of the country. This is not good... this is not democracy. This is stifling democracy. This is in fact murdering democracy," Naidu said.
Soon after newly elected members took oath of office, members from the TDP, AIADMK, Congress and others trooped near the Chairman's podium while shouting slogans such as 'Save Andhra Pradesh', 'Narendra Modi Dalit Virodhi' and 'We demand Cauvery board'.
Naidu urged the agitated members to raise their issues after laying of the papers on the table but his appeal went in vein.
"A handful of people obstructing the house, and taking up their own agenda, will not solve any problem. It is not going to add anything to the value of the house," the Chair said.
Urging members to return to their seats, he said that as the house will be adjourned sine die on Friday, some pending bills need to be passed in national interest.
"A number of bills are pending before the house, including key bills like the Prevention of Corruption Act. The country wants development, the country wants legislation, people want legislation," Naidu said.
As his appeal was not heard, Naidu adjourned the house till 2 p.m.
The Congress members were protesting over a Supreme Court order that diluted provisions of the Scheduled Castes and Scheduled Tribes (Prevention of Atrocities) Act, 1989. They accused the government of being "anti-Dalits".
The AIADMK and DMK members sought the immediate constitution of the Cauvery Water Management Board for division of the river water between Tamil Nadu and Karnataka.
Members of the TDP displayed placards to demand special status for Andhra Pradesh.